East China Normal University (China) Visited YNU
East China Normal University (China) Visited YNU
On March 9th, 2016 (Wednesday), Vice-President of East China Normal University (hereafter ECNU) Ren Youqun and other 5 faculty members visited YNU.
Since ECNU and YNU signed an academic exchange agreement in 2000, both universities continued an active exchange of students, promoting collaborative research and jointly holding international seminars. Besides, Faculty-level exchange is also active. In 2009, the e-Educational System Engineering Research Center of ECNU and Graduate School of Environment and Information Sciences of YNU signed the Memorandum of Collaboration (hereafter MOC), which was followed by the MOC between MBA Education Center of ECNU and Faculty of Business Administration of YNU. In 2014, the agreement of Double Degree Program was concluded between Business School of ECNU and College of Economics of YNU.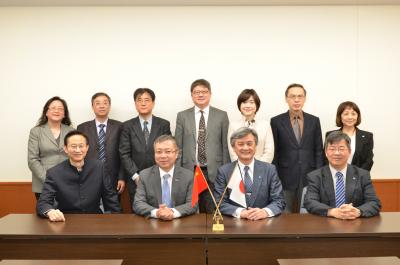 The courtesy visit was made at the 2nd conference room at the Administration Bureau to be welcomed by President Yuichi Hasebe, Executive Director Fumihiko Nakamura, Head of International Strategy Section Professor Hiromi Kabashima, Information Technology Service Center Professor Xu Haoyuan and International Office Manager Yoko Ito. They actively exchanged views on the possibility of the further exchange of researchers and of students.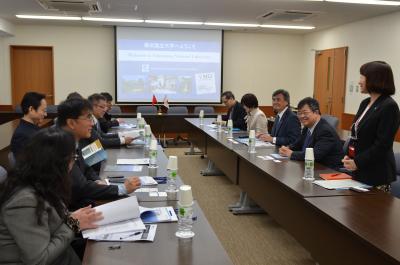 After the courtesy visit, the party took Test Ride MIRAI, Hydrogen fuel cell vehicles introduced into YNU as demonstration vehicles and visited Central Library under the guidance of Assistant Professor Junji Sakamoto of Center for Creation of Symbiosis Society with Risk.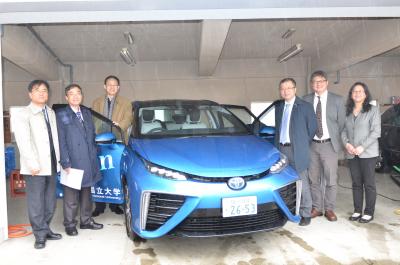 In the afternoon, the party visited the Dean's office of College of Education and Human Sciences to be welcomed by Dean Masaki Takagi, Executive Advisor to the President Kuniko Sugiyama, Professor Yoichi Nonaka and Associate Professor Asako Takashiba(Chinese Literature). After the introduction about the College of Education and Human Sciences by Dean Takagi, they had an active exchange of opinions sharing information about the teacher training system of both universities. After that, they visited Education Design Center and home economics related facilities and so on.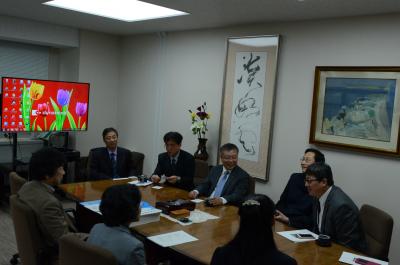 At the end, the party visited International Student Center to be welcomed by Professor Yoshimi Ogawa and introduced the results of the joint project which Japanese Education Division of YNU has carried out with Japanese Language Teacher of ECNU, outline of the Center and the contents of the research and the education. They shared the information about the situation of exchange students from both universities during the tour inside of the Center. This visit was very fruitful opportunity for both universities to exchange of views and it is expected further deepening and developing exchanges with ECNU.