United Nations Development Programme (UNDP)
Regional Director for Asia and Pacific Haoliang Xu visited YNU

United Nations Development Programme (UNDP)
Regional Director for Asia and Pacific Haoliang Xu visited YNU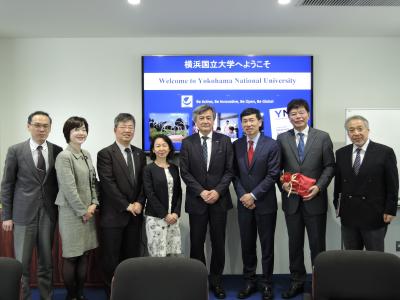 On 22nd April, 2016(Friday), the delegation of UNDP Regional Director for Asia and Pacific Haoliang Xu visited YNU. On the afternoon of the same day, Director Xu gave a special lecture for the next generation carrying "sustainable development".
The courtesy visit was made at the President office to be welcomed by President Yuichi Hasebe, Executive Director, Vice-President in International/External and Public Relations Fumihiko Nakamura, Head of International Strategy Section Professor Hiromi Kabashima, International Strategy Section Professor Xu Haoyuan and Faculty of International Social Science Professor Osamu Koike.
First President Hasebe gave an address to the guests, Vice-President Nakamura introduced YNU general information, then the situation of international exchange was explained.
Director Xu asked several questions and active exchange of opinions took place.
It would be expected to develop the relationship between UNDP and YNU.