Griffith University (Australia) visited YNU
Griffith University (Australia) visited YNU
On June 13th, 2016, Monday Marketing Manager Ms. Sharon Bignell from Griffith University (Australia) visited YNU.
Ms. Bignell was welcomed by Professor Motonari Tanabu, Lecturer Mitsue Ishida from College of Business Administration, Professor Shohei Yoshida from International Strategy Organization and Manager Tomoko Takeuchi from International Office.
Gift exchange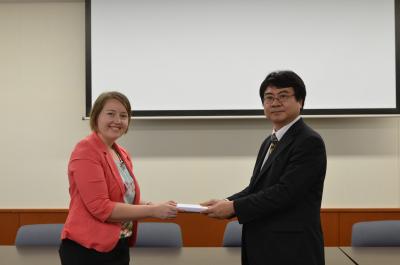 The two universities shared the information concerning the implemented activities aiming at globalization. The participants actively discussed the tasks and the possibilities of various study exchange programs such as exchange study abroad and summer program as well as the internship programs in great details. Also, Professor Yoshida gave a presentation about YNU to Ms. Bignell.
It is expected that this visit will deepen the relationship between YNU and Griffith University in the near future.