California State University, Sacramento (USA) visited YNU
California State University, Sacramento (USA) visited YNU
On June 28th, 2016 Tuesday, a delegation from California State University, Sacramento visited YNU. The visitors were including Provost and Vice President Dr. Ming-Tung Lee, Professor Kazue Masuyama of Department of World Languages and Literatures and Mr. Pinto Paulo of Recruitment & Client Relations, College of Continuing Education's English Language Institute (ELI). Furthermore, two of the exchange students from California State University, Sacramento also participated in the meeting.
YNU and California State University, Sacramento have been the partner universities since 2001. The guests were welcomed by Vice President Yasuo Ono, Head of International Strategy Section Professor Hiromi Kabashima, Professor Kenji Hasebe, Specially Appointed Assistant Professor Brian Berry from International Strategy Organization and Manager Tomoko Takeuchi from International Office.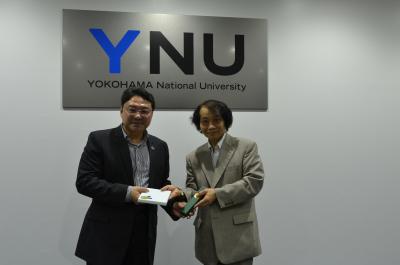 The meeting started with the introduction of each university. Then two universities explained the details of programs such as English programs and Summer Program. The topic of the timing to start the student exchange for each program and the current situation of student exchange was also brought up to discuss. The participants actively shared the information regarding the current situation to consider the possibilities of the future student exchange.
It is expected that this visit will deepen the further relationship between YNU and California State University in the near future.