Dhurakij Pundit University, Navamindradhiraj University(Thailand)
and National Tsing Hua University (Taiwan) visited YNU
Dhurakij Pundit University, Navamindradhiraj University(Thailand)
and National Tsing Hua University (Taiwan) visited YNU
On August 1st 2016, Monday, Vice President Renu Sukharomana, and Assistant Professor Thanchanok Bejrananda from Dhurakij Pundit University, Professor Michael McAleer from National Tsing Hua University and Lecturer Chakarin Bejrananda from Navamindradhiraj University visited YNU.
The delegation was welcomed by Executive Director and Vice President Fumihiko Nakamura and Dean of International Graduate School of Social Sciences Professor Taro Akiyama at the Executive Director's office.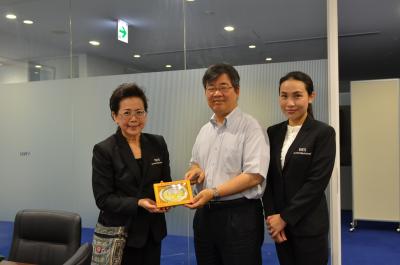 The meeting began with a greeting by Vice President Nakamura and sharing information of the respective universities. The participants then actively discussed about the possibility of researcher exchanges and the research collaboration.
It is expected that this visit ensures to deepen the relationship between YNU and Dhurakij Pundit University and other universities in Asia.