Opening Ceremony of YNU-OYO International Branch at University of Oulu (Finland)
Opening Ceremony of YNU-OYO International Branch at University of Oulu (Finland)
On August 26th Friday, 2016, YNU and University of Oulu jointly held the opening ceremony of YNU-OYO International Branch(Oulu) at University of Oulu that YNU has established in November 2015.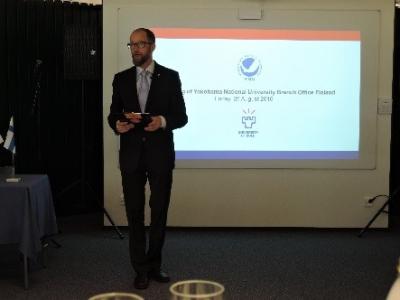 This opening of the YNU branch office in Europe was attended by the alumni, professors, Oulu City municipal officers, Japanese guests residing in Oulu. The guests are mainly related to YNU through the co-organized activities such as student exchanges and co-research opportunities.
The participants from YNU are President Yuichi Hasebe, Executive Director and Vice President Fumihiko Nakamura, Dean of College of Economics Yasushi Nakamura, Professor of Faculty of Engineering and Director of Center for Future Medical Social Infrastructure Based on Information Communications Technology Professor Ryuji Kohno, Associate Professor Morinao Iju from College of Economics, Manager of International Office Tomoko Takeuchi and Personnel and Labor Affairs Division staff Yusuke Nakakane.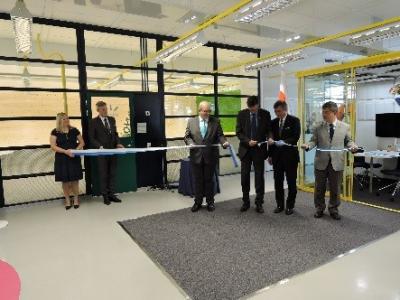 The ceremony kicked off with the passionate air guitar performance by the last year's world champion and this year's Japan champion, who would participate in the world competition organized in Oulu on the same day, to warm up the venue.
Then, both President Yuichi Hasebe and Rector Jouko Niinimaki had a time to give a speech. President Hasebe mentioned his resolution to take a role to maintain the Oulu branch as the gateway to Europe in his speech. He also appreciated the firm friendship and strong support by University of Oulu. Rector Niinimaki stated the international exchange is expected to develop further through this branch. He also emphasized the effectiveness of learning in a multinational environment as it is proven by many study cases.
Afterwards, there was an announcement of the received messages from Ambassador Extraordinary and Plenipotentiary of Japan Jota Yamamoto of Embassy of Japan in Finland and Governor of Kanagawa Prefecture Yuji Kuroiwa.
Moreover, the Japanese instrument Sanshin was performed by Ms. Takako Uchida Coordinator of International Affairs of Business Oulu. This collaboration of the strings, air guitar and Sanshin made a fusion of the Western and Japanese culture.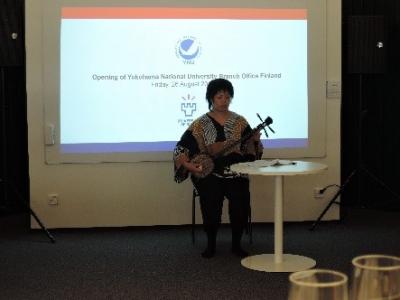 To introduce Japanese culture to the guests, Musō Shinden-ryū style of sword-drawing art, "Iaido" was demonstrated by two Finnish demonstrators. Gazing at the every single sword movement, the audience were amazed by the magnificent sword technique and gave a shower of applause to the performers.
Professor Ryuji Kohno, who has supported the development of a long-time and firm relationship between YNU and University of Oulu, presented the history and future plans and tasks to work together. He shared his future vision of Oulu conveying the interaction in the fields of Social Sciences, and practical integration of arts and sciences as the field of Medicine and Communication by collaborations among industry, universities and the government sector.
The research partner of YNU researchers, Professor Olli Silven suggestively emphasized that careful consideration of the branch office usage is crucial after opening this branch. It is also mentioned that closer communication between YNU and University of Oulu is the key to success.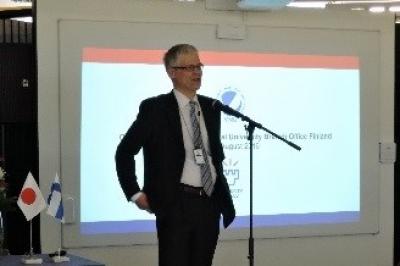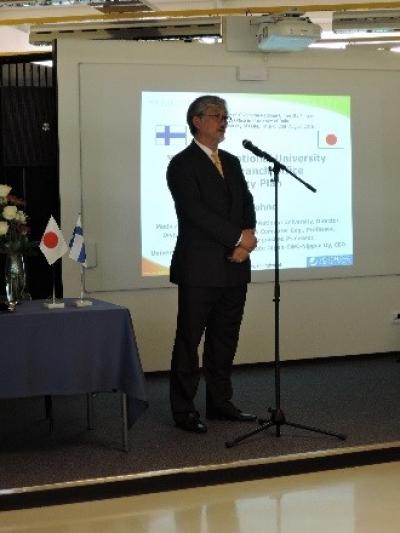 Japanese guests residing in Oulu City seem to enjoy their life including observing Aurora and harvesting mushrooms and berries, surrounded by the rich and beautiful nature. This life style involving the harmony of nature and human sounds absolutely valuable and promises to provide the students with great experiences in the beautiful learning environment.
At University of Oulu, there are a variety of activities and support to cultivate mentality of students into entrepreneurs. This remarkably stimulus learning environment shall inspire YNU students to consider starting a business and build their future.
It is essential to ensure the full cooperation with University of Oulu as well as YNU domestic solidarity to facilitate the branch office management. This effort would lead to increase our international activities in the European areas.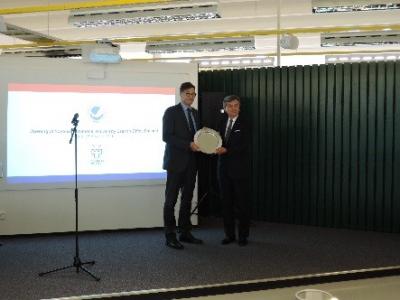 It should be noted that this opening ceremony was reported on the local paper of Oulu City, "KALEVA".