Delegation of University of Maryland (USA) visited YNU
Delegation of University of Maryland (USA) visited YNU
On October 5th Wednesday, 2016, Special Advisor to the President Mr. Julian Jones and Associate Professor Dr. David Karol from University of Maryland visited YNU. Kanagawa International Strategic Advisor Ms. Kikko Okajima Murray, Mr. Kiyosaku Ebina, and Mr. Hiroyuki Murakami from Kanagawa Prefectural Government also accompanied for this visit.
Maryland and Kanagawa Prefecture have been sister cities for 35 years since the friendship agreement was signed in 1981. This partnership led Mr. Jones and Assoc. Professor Karol to visit Japan this time.
The guests were welcomed by President Hasebe, Executive Director and Vice President Fumihiko Nakamura, Director of International Strategy Section Professor Hiromi Kabashima and International Office Manager Tomoko Takeuchi at the president office.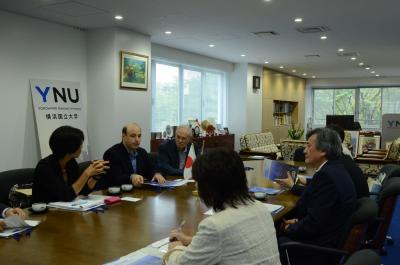 First, Mr. Ebina introduced the delegation to YNU participants. Then, President Hasebe addressed a welcome speech. Afterward, Executive Director Nakamura explained the history and the current situation of the international activities of YNU. The participants lively discussed the possibilities and concrete direction for student exchange such as short-term and long-term programs.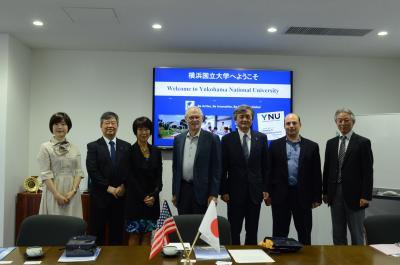 After visiting the president office, the delegation had time to talk with Professor Kabashima, Professor of Faculty of International Social Sciences Osamu Koike and Manager Takeuchi about the government and politics which Assoc. Professor Karol is specialized in.

We hope this visit facilitate the stronger relationships between University of Maryland and YNU.