Ambassador of the Czech Republic to Japan and Technical University of Ostrava visited YNU
Ambassador of the Czech Republic to Japan and Technical University of Ostrava visited YNU
On November 1st Tuesday, 2016, Ambassador of the Czech Republic to Japan Tomáš Dub and Professor Bohumír Strnadel from Technical University of Ostrava visited YNU.
The visitors were welcomed by Executive Director and Vice President Fumihiko Nakamura and International Office Manager Tomoko Takeuchi at the President Office.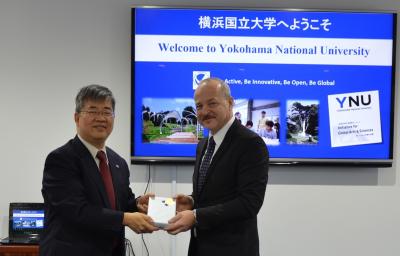 Ambassador Tomáš Dub visited YNU to attend the 7th International Workshop "New Methods of Damage and Failure Analysis of Structural Parts" held at YNU Education and Culture Hall from 1st to 4th of November, 2016. He visited YNU Head Office for greeting at the same time. The chairman of the workshop Professor Strnadel and Vice President Osamu Umezawa accompanied him for this visit.
At the meeting, after the introduction of YNU and explanation of the situation of the international exchange, the participants discussed the extension of the student exchange between the Czech Republic and YNU.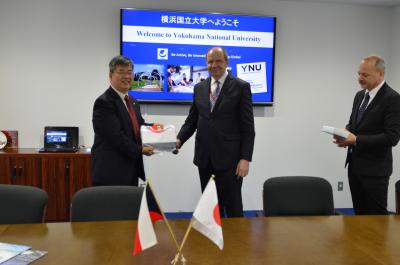 After the courtesy call on Vice President Fumihiko Nakmura, they visited the room of Dean of Faculty of Engineering and discussed with Dean of Faculty of Engineering Professor Hiroshi Fukutomi, Vice President Umezawa about the relationship between YNU and the Czhech Republic including Technical University of Ostrava and Institute of Physics of Materials of the Academy of Sciences, for instance, the footprint of the holding international workshop.
It is expected this visit will develop the relationship between the Czech Republic and YNU.