The Hong Kong Polytechnic University visited YNU
The Hong Kong Polytechnic University visited YNU
On November 7th Monday, 2016, Chair Professor You-Lin Xu, Profssor Kam-Tim Chau and Dr. Jian-Guo Dai from The Hong Kong Polytechnic University (PolyU) visited YNU.
The delegation visited YNU as leaders of student group who participated in "SAKURA Exchange Program in Science" as well as lecturers of YNU-PolyU-SCU Joint Workshop on "Frontiers of Multi-Hazard Mitigation Strategies in Urban Areas-Highlighting geotechnical aspects –" which was held in the afternoon of this day.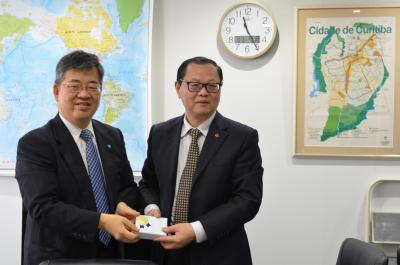 The visitors were welcomed by Executive Director and Vice President Fumihiko Nakamura, Dean Professor Satoru Sadohara, Professor Kazuo Konagai, Professor Akira Tasai from Faculty of Urban Innovation, Professor of International Strategy Organization Xu Haoyuan and International Office Manager Tomoko Takeuchi at the Executive Director's office.
At the meeting, Executive Director Nakamura firstly made a welcome greeting. After YNU explained about YNU undergraduate and graduate schools, the outline of PolyU programs was introduced to YNU professors. Then, the both universities shared student exchange program information, courses, subjects and learning environment. They also lively discussed about the possibility of the future student exchange opportunities.
After the meeting, YNU President Yuichi Hasebe joined the group to welcome and greet every visitor.
We hope this visit will deepen the relationships between the both universities in the future.