University of São Paulo (Brazil) visited YNU
University of São Paulo (Brazil) visited YNU
On December 6th Tuesday, 2016, Professor Julio R. Meneghini, Director of Research Centre for Gas Innovation and Ms. Karen Mascarenhas, Research Centre for Gas Innovation Coordinator for Human Resource & Leadership management from University of São Paulo visited YNU. This was the first time for Professor Meneghini to visit Japan since 1999.
University of São Paulo (USP hereafter) and YNU signed Academic Exchange Agreement in 1983 and founded YNU-USP branch on the campus of USP in 2015. The two universities have continued exchanges of professors, staff and students through events such as joint research, joint seminar and exchange programs over decades.
The visitors were welcomed at the Executive Director's Office by Executive Director and Vice President Shin Morishita, Professor Makoto Arai and Professor Takanori Hino from Faculty of Engineering, and International Office Manager Tomoko Takeuchi.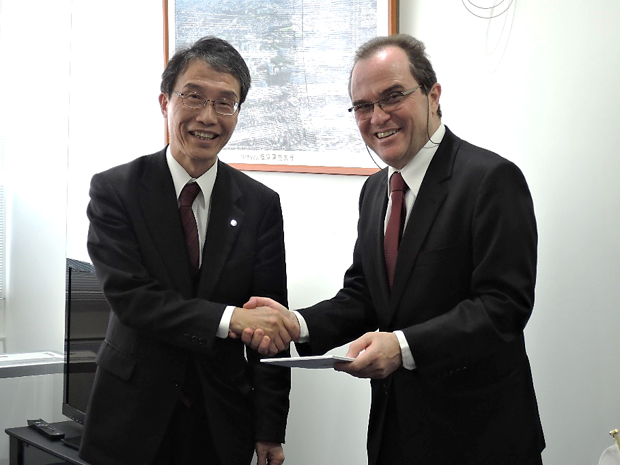 At the meeting, Professor Meneghini explained about USP including its campus and the facilities of research centers. Then, the participants shared information about the recent activities of the respective universities as looking back on the history between USP and YNU. The fields of possible joint research were also discussed among the professors. The meeting remained in a friendly atmosphere from beginning to end.
This visit is expected to make the relationship between YNU and USP even stronger.