President Hasebe's delegation attended signing ceremony for Academic Exchange Agreement with CFAU (China Foreign Affairs University) and visited Partner Universities and Institutions in Beijing
President Hasebe's delegation attended signing ceremony for Academic Exchange Agreement with CFAU (China Foreign Affairs University) and visited Partner Universities and Institutions in Beijing
From October 30th to November 2nd 2016, President Yuichi Hasebe, Professor Akiko Miyake of College of Education and Human Sciences, Professor Haoyuan Xu of International Strategy Organization and Section Chief Eiji Kotani of International Office visited the local partner universities and institutions in Beijing from October 30th to November 2nd.
On October 31st, the delegation visited China Foreign Affairs University (CFAU hereafter) and signed an academic exchange agreement between China Foreign Affairs University and YNU. President Qin Yaqing, Director Mei Qiong of Foreign Affairs and Associate Professor Ding Man participated from CFAU. The presidents of both universities signed and concluded the agreement in a friendly atmosphere.
CFAU was founded in 1955 as the only national university under the Ministry of Foreign Affairs of the People's Republic of China in order to educate students who become diplomats. Professor, faculty staff and student exchanges between YNU and CFAU have been conducted mainly by Professor Akiko Miyake, College of Education and Human Sciences and Professor Hitoshi Yamada, Faculty of Urban Innovation. As a result of the exchange history, the concrete plan of this agreement was realized.
At the meeting held before the signing ceremony, President Hasebe mentioned that he expects various communication between the both universities since it is crucial to study and research the economy, politics and international relations of China. On the other hands, President Qin said that he expects many YNU professors and students visit CFAU as there are a number of CFAU professors, faculty staff and students studying Japanese culture such as classical literature."
It is expected that this agreement between CFAU and YNU will encourage exchange among professors, faculty staff and students even livelier and lead to even more active cooperation between the universities.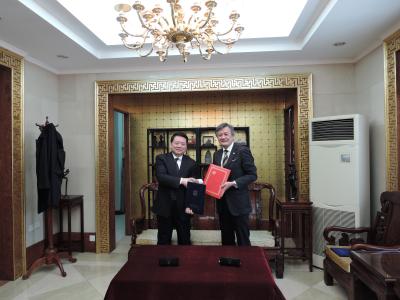 On the same day, the delegation visited Japan Society for the Promotion of Science (JSPS) Beijing Office to meet Director Professor Kaoru Hirota and Deputy Director Mikihiro Watanabe. This office organizes international exchange projects, symposium, seminars and information sessions of its project as cooperating with organizations of the academic promotion in China. Also, KIHEIKAI, which mainly consists of Japanese universities, research centers and government agencies that have liaison office, branches, alumni unions in China, invite speakers and hold lectures once in 3 months to exchange information about education and research in Japan and China. After they briefly explained the activities of the office, the participants exchange views of each other. The delegation from YNU received meaningful information in this meeting such as important points at the time of filing application to the project of JSPS held by Japan-China.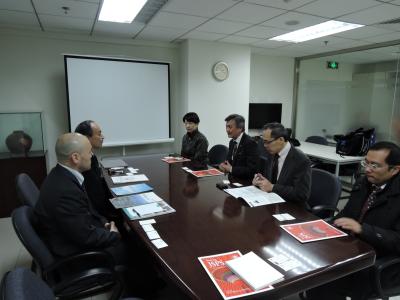 On November 1st, President Hasebe and his delegates visited University of International Business and Economics (UIBE hereafter). YNU and UIBE signed Academic Exchange Agreement in 2012 and established the YNU-IBE International Branch (Beijing) on UIBE campus in 2014. Vice President Zhao Zhongxiu and Deputy Director Li Xiaomeng kindly attended the meeting and discussed the further exchange of researchers and students between the universities in a friendly atmosphere. This visit is expected to strengthen the relationship and facilitate even more active exchange between the universities.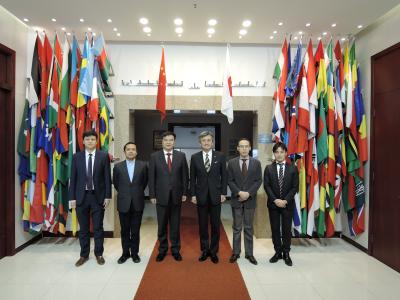 On the same day, the delegation visited Beijing Normal University (BNU hereafter). YNU and BNU have a long exchange history since the academic exchange agreement was signed in 1998. The student exchanges of both universities are very active such as the event "Asia Dialogue". From Beijing Normal University, Dr. Zhou Zuoyu, Vice-President and Professor, Dr. Liu Xuemin, Professor Deputy Director Chen Juan and Fang Shun Ji from Office of International Exchange and Cooperation attended the meeting.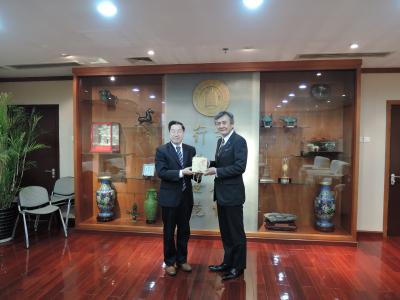 At the meeting the participants shared the information, such as the outcome of student exchange programs that have been conducted by YNU and Beijing Normal University for a long time. Besides, they discussed the possibility of joint research in the field of Disaster Prevention and Mitigation. Vice-President Zhou said, "We would like to develop the exchange in a various fields between Beijing Normal University and YNU now in the further as we maintain the friendship between us."

It was a fruitful visit for YNU delegation that both universities had an opportunity to discuss the possibility of the future relationship in Beijing.

In this trip, YNU delegation obtained a lot of beneficial information such as student exchange and academic exchange between Japan and China by visiting JSPS Beijing Office as well as partner universities. It is expected that the future development and international activities of YNU in China will be even more active in the future.

*Branch Manager Liu Qingbin of YNU-IBE International Branch at UIBE escorted the delegation to CFAU, JSPS and UIBE.