University of Autonomy "Gabriel Rene Moreno" (Bolivia) visited YNU
University of Autonomy "Gabriel Rene Moreno" (Bolivia) visited YNU
On November 30th Wednesday, 2016, Vice Rector Oswaldo Ulloa Peña from University of Autonomy "Gabriel Rene Moreno" (UAGRM hereafter) visited YNU.
The visitors were welcomed by President Yuichi Hasebe, Executive Director and Vice President Fumihiko Nakamura, Executive Advisor to the President Professor Yoko Fujikake, Manager of International Office Tomoko Takeuchi at the President Office.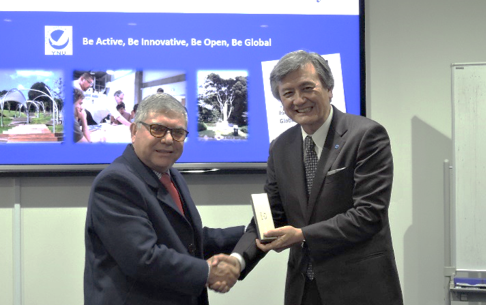 At the meeting, Vice-Rector Peña introduced UAGRM and its Livestock Farming Project in collaboration with JICA program as a Japan's international cooperation. He also mentioned the outcome of this project has been widespread.
Then, President Hasebe and Executive Director Nakamura explained about YNU and Faculty of Urban Innovation. In addition, the participants of both universities lively discussed about the current situation of South America, activities implemented in Bolivia and the possibility of joint research and joint programs with concrete plans.
We hope this visit will strengthen the relationship between YNU and UAGRM as well as the universities in both Bolivia and other South American areas.