A Delegation of Shanghai University of Medicine & Health Sciences (China) visited YNU
A Delegation of Shanghai University of Medicine & Health Sciences (China) visited YNU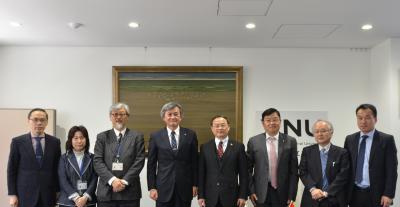 On February 15th Wednesday, 2017, President Huang Gang, Visiting Professor Mototora Kai from Shanghai University of Medicine & Health Sciences (SUMHS) and Mr. Xu Ying from Chartwell Healthcare Corporation visited YNU.
President Yuichi Hasebe, Professor Emeritus Hiroshi Arisawa, Professor Ryuji Khono of Faculty of Engineering and Director of Center for Future Medical Social Infrastructure Based on Information Communications Technology, Professor Xu Haoyuan of International Strategy Organization and International Office Manager Tomoko Takeuchi from YNU welcomed the visitors at President's Office.
The meeting started with a welcome speech from President Hasebe and self-introduction of each participant. Then, both YNU and SUMHS respectively explained the past activities and plans for future of each institution. President Huang emphasized his expectation that SUMHS and YNU would cooperate in the fields of AI and rehabilitation engineering and the participants discussed the possibility of specific contribution for future.
At SUMHS, The first International Symposium on Smart Rehabilitation Innovation was held on February 24th and 25th, 2017 as a lecturer. Professor Kohno was invited as a lecturer and spoke about "Dependable Remote Rehabilitation with Wireless Body Area Network (BAN), Network Cloud and AI Data Mining for Better Activities of Daily Living (ADL) - Research, Development, Standard, Regulation and Business - ".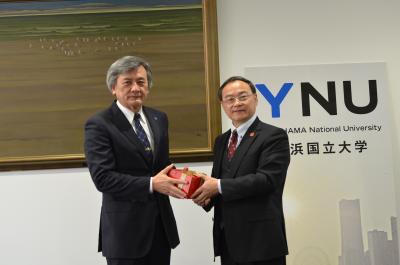 It is expected that this visit will facilitate the further development between YNU and Shanghai University of Medicine & Health Sciences in the future.