Mongol Institute of Technology (NMIT) visited YNU
Mongol Institute of Technology (NMIT) visited YNU
On February 15th 2017(Wednesday), New Mongol Institute of Technology (NMIT) President Chimed Ganzorig visited YNU. NMIT and YNU have been partner universities since 2015.
President Ganzorig was welcomed by President Yuichi Hasebe and Executive Director and Vice President Fumihiko Nakamura at the President office.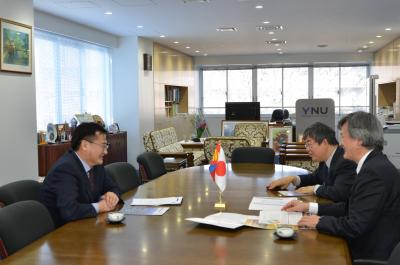 Both universities exchanged information on new programs, NMIT introduced the development of mathematics and engineering programs, on the other hand YNU explained the undergraduate entrance examination and YOKOHAMA Global Education Program (YGEP).
Executive Director Nakamura shared the progress of students from NMIT who are currently studying at YNU. They discussed about the possibility of further student exchange.
It is expected that this visit ensures to deepen the relationship between NMIT and YNU.