Held the event"Festival of Cultures and Co-operation",celebrating cross-cultural exchange and international cooperation at University of Oulu, Finland
Held the event"Festival of Cultures and Co-operation",celebrating cross-cultural exchange and international cooperation at University of Oulu, Finland
 Tellus Innovation Arena opened at University of Oulu celebrated its first anniversary this year. For the purpose of advertising International Avenue, where Yokohama National University branch office was established in August 2016, it became very lively event to appeal the importance of internationality between YNU and University of Oulu in collaboration with our branch office.
 Currently, students and researchers from 88 countries are enrolled at University of Oulu, and there were applications for exhibition booth from 25 countries this time. The interactive cultural introduction events such as over 30 presentations, performances, trying on national costumes, tasting and dancing were held at each booth in Tellus.
 Mr. Matti Sarén, Vice President, from University of Oulu and Professor Ryuji Kohno, Director of Center for Future Medical Social Infrastructure based on Information Communication Technology, Graduate School of Engineering, on behalf of the President Yuichi Hasebe from YNU attended the opening ceremony and spoke opening remarks, while the colorful flag fluttered. In addition, in introduction of Japanese culture, under the cooperation of Japanese international students, the booth regularly introduced Japanese traditional toys and calligraphy work, as well as several classes were held such as origami teaching, Japanese sake tasting, and popular sushi making classes. People far exceeded the capacity of sushi making class rushed to the meeting room, it was like a crowded train in Japan.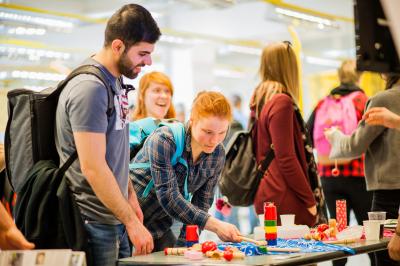 There was no precedent for events of this size in University of Oulu, and the number of visitors to the venue exceeded 2,500. Dissemination through SNS also worked well, and at snapchat, public relations at University of Oulu, the event marked the most followers ever had.
 This event is also an opportunity to appeal YNU to overseas guests, and the branch office staff made presentations on its activities at University of Oulu and how to study abroad to YNU.
 The branch office hold information seminars for studying abroad at YNU and cooking classes as part of public relations of Japanese culture. With the effect of the event, the number of students at University of Oulu who wish to study abroad to Japan in the year 2017 to 2018 increased, and YNU were able to acquire the most number of applicants compared with other Japanese universities.
 In the future, it is expected to develop more close relationships with University of Oulu.