A delegation from the University of Oulu visited YNU
A delegation from the University of Oulu visited YNU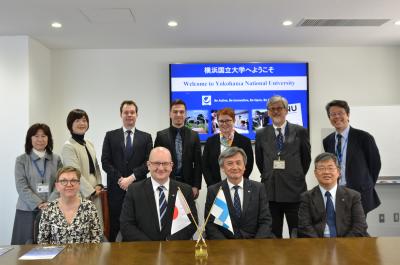 On March 22nd Wednesday, 2017, a delegation of professors and staff from the University of Oulu (OYO) headed by Vice Rector Matti Sarén visited YNU. OYO and YNU signed an exchange agreement in 2009 and set a YNU international branch at OYO in 2015 as an international cooperative hub in Europe.
Firstly, the delegation and the related professors of YNU discussed actively about the possibility of the further exchange including postdoctoral fellow. They discussed about the future use of the branch office since it is playing an important role for the development of the student exchange. The delegation gave us the information for YNU students who want to study abroad in OYO through OYO Website.
Then, the visitors were welcomed at the President office by President Yuichi Hasebe, Executive Director and Vice President Fumihiko Nakamura, Professor Ryuji Kohno of Faculty of Engineering and Director of Center for Future Medical Social Infrastructure Based on Information Communications Technology, Professor Yasuo Yamamoto of College of Education and Human Sciences, Director of International Strategy Section Professor Hiromi Kabashima, Specially Appointed Professor Emi Tamechika of Center for Economic Growth Strategy and International Office Manager Tomoko Takeuchi.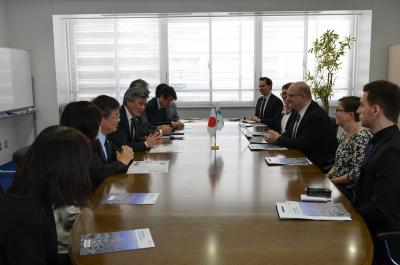 At the meeting, we reaffirmed the depth of the relationship between OYO and YNU and discussed the possibility of further student exchange and research exchange. We talked again about the huge role of the branch office and the expectation for its contribution to develop exchange, and agreed to use it more effectively. Moreover, Vice Rector Sarén introduced about global entrepreneurship education through collaboration with overseas companies and we discussed the possibility of both universities' collaboration regarding global education in the future.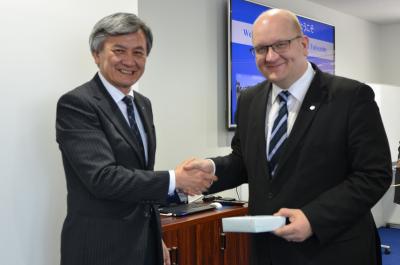 We hope that this visit will strengthen further relationship between YNU and OYO in the future.