A delegation from University of Transport and Communications in Vietnam visited YNU
A delegation from University of Transport and Communications in Vietnam visited YNU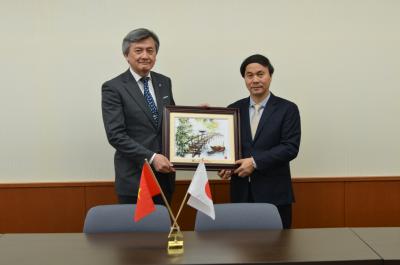 On March 30th Thursday, 2017, Rector Prof. Dr. Nguyen Ngoc Long and Dr. Eng. Pham Hoang Kien, Head of Section of Informatics in Civil Engineering from University of Transport and Communications visited YNU. Dr. Kien is a graduate of YNU and also serves as secretariat of Hanoi Alumni Association. YNU signed an inter-university exchange agreement with University of Transport and Communications in 2008, and we have made active exchanges.
 The visitors were welcomed by President Yuichi Hasebe, Executive Director and Vice President Fumihiko Nakamura, Professor Hitoshi Yamada and Professor Hiroshi Katsuchi from Faculty of Urban Innovation, and International Office Manager Tomoko Takeuchi at Administration Bureau Meeting Room 2.
 In the meeting with lunch, the attendees exchanged opinions on past exchange situations and possibilities for future exchanges. It was held in a peaceful atmosphere from beginning to end, speaking about Vietnamese spring events.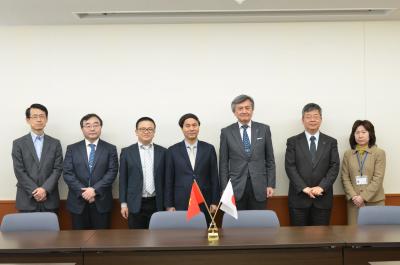 It is expected that this visit will facilitate the further development between YNU and University of Transport and Communications.