A delegation from Institute of Science and Development Chinese Academy of Sciences Visited YNU
A delegation from Institute of Science and Development Chinese Academy of Sciences Visited YNU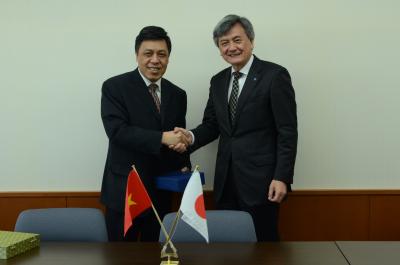 On April 28th Friday, 2017, Director-General, Institute of Science and Development Chinese Academy of Sciences and Director-General, Chinese Association of Development Strategy Studies Pan Jiaofeng, Vice Director-General Zhang Feng, Associate Professor Leng Ming and Dr. Professor Liu Haibo from Institute of Science and Development Chinese Academy of Sciences, and Dr. Liu, Qing-Bin, Manager of YNU Branch at University of International Business and Economics visited YNU.
The visitors were welcomed by President Yuichi Hasebe, Executive Director and Vice President Fumihiko Nakamura, Professor Xu Haoyuan from International Strategy Organization, Professor Taro Akiyama from Graduate School of International Social Sciences and International Office Manager Tomoko Takeuchi and they had a luncheon meeting.
After President Hasebe's welcome speech, Professor Pan, Director- General, talked about the background of this visit. On April 1st, 2017, the Chinese government announced that the government sets up a new economic special zone "Xiongan New Area" in the Hebei Province, located 100 km from Beijing and Tianjin and transfers part of non-capital function in Beijing. In connection with the relocation, Chinese Academy of Sciences undertook consulting services advising the central government on science and technology strategies. Since Japan has experience of urban relocation and is a developed country of problem solving, the delegation has visited Japanese affiliated ministries, universities, Tsukuba city office, private enterprises other than YNU in order to learn the experience of foreign countries.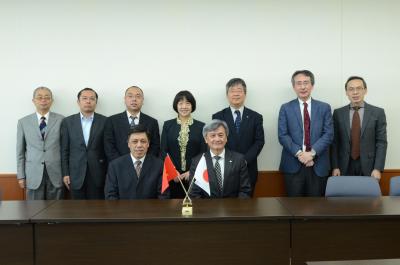 After that while having lunch, both institutions exchanged opinions frankly, such as by Professor Nakamura asking Professor Pan's impression concerning the urban plan of Tsukuba city. Chinese Academy of Sciences puts importance of the idea of city relocation of Beijing and wants to cooperate with universities and research institutes in various fields of research in the future.
In the end of the meeting, by concluding an agreement with Chinese Academy of Sciences and YNU, collaboration with not only research subjects of " Xiongan New Area" but also long-term perspective such as exchange of researchers and graduate students and implementation of collaborative research are promised.
It is expected that this visit will facilitate the further development between Chinese Academy of Sciences and YNU.