A delegation from University Utara Malaysia visited YNU
A delegation from University Utara Malaysia visited YNU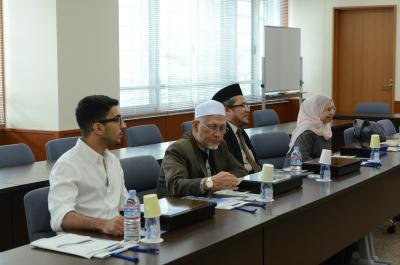 On May 15th Monday, 2017, Assoc. Prof. Asmadi Mohamed Naim, Dean of Islamic Business School, Prof. Rosylin Mohd Yusof, Prof. Hj Abdullah hj Abdul Ghani and Mr. Bilal Guerinat, a student, from University Utara Malaysia(UUM) visited YNU.
The visitors were welcomed by Executive Director and Vice President Fumihiko Nakamura, Professor Hiroshi Morita and Prof. Nobuyuki Maeyama from Graduate School of International Social Sciences, Prof. Shohei Yoshida from International Strategy Organization and International Office Manager Tomoko Takeuchi. Prior to the meeting, while having Japanese food with keen interest in Halal, they talked about Malaysian food culture etc., and the meeting started in a peaceful atmosphere.
At the beginning of the conversation, there was a talk on international conferences from UUM, and there was hope that UUM would like to consider the possibility of cooperation with YNU in the 2018 Islamic Business Management Conference in the future. And also, UUM was accredited by the Association to Advance Collegiate Schools of Business (AACSB International), which is one of the international accreditation to evaluate management education, and UUM shared their experience in getting the standards necessary for accreditation, organizing the administrative structure for application preparation and its merit, etc. The story on international accreditation is closely related to the world ranking which is also of our interest, and active exchange of opinions was held.
It is expected that this visit will facilitate the further development between University Utara Malaysia and YNU.