A Representative from Indian Institute of Technology Hyderabad visited YNU
A Representative from Indian Institute of Technology Hyderabad visited YNU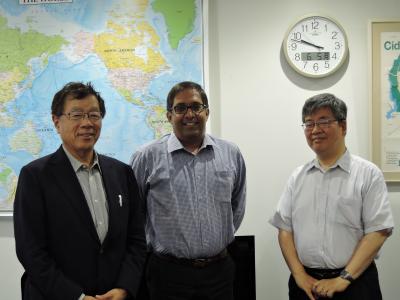 On June 5th Monday, 2017, Professor Kolluru V.L. Subramaniam from Department of Civil Engineering, Indian Institute of Technology Hyderabad (IIT-H) visited YNU. Professor Subramaniam was welcomed by Executive Director and Vice President Fumihiko Nakamura, Distinguished Professor Yozo Fujino from Institute of Advanced Science, and International Office Manager Tomoko Takeuchi.
Indian Institute of Technology Hyderabad was established in 2008 and was supported by Japan due to the agreement between the Government of India and the Government of Japan, and thus there is close relation with the universities in Japan. Currently IIT-H has agreements with 15 Japanese universities such as Osaka University, Kyoto University, Keio University, the University of Tokyo, Tohoku University, Ritsumeikan University, etc., and also the students' trend changes from the West to the East, which brings an interest in concluding an agreement between IIT-H and YNU.
This year, YNU will accept two post-graduate students from IIT-H and it is expected that this visit will facilitate the further development between Indian Institute of Technology Hyderabad and YNU.