YNU signed an Agreement on International Branch with Prince of Songkla University(Thailand)
YNU signed an Agreement on International Branch with Prince of Songkla University(Thailand)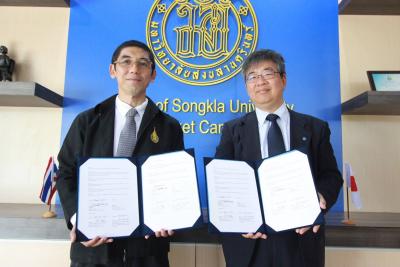 On June 20th Tuesday, 2017, YNU signed an agreement with Prince of Songkla University (PSU, Thailand) in setting up its international branch on Phuket campus of PSU. PSU was founded in 1967 as a national university and has the oldest history in the southern part of Thailand, and YNU has concluded an exchange agreement with PSU since 2012.
Executive Director and Vice President Fumihiko Nakamura visited PSU to hold a signing ceremony along with Vice President Worawut Wisutmethangoon, Ms. Sukhuma Ketsuwan (Syn) who will engage as a branch staff and other related faculties and staff.
The PSU branch is the fifth international branch of our university following Vietnam, China, Brazil and Finland and it will be a hub for practical research, research development and cultivation of human resources in Thailand and neighboring countries especially in the field of environmental science, natural science, computer science, business administration, Japanese studies and urban development.