A delegation from Incheon National University, Korea visited YNU
A delegation from Incheon National University, Korea visited YNU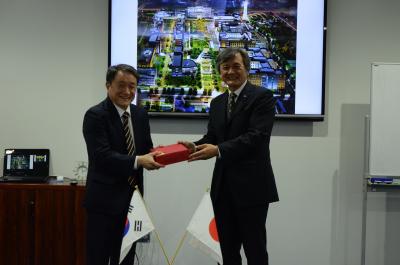 On June 13th Tuesday, 2017, President Dong-Sung Cho, Dean of External Affairs and Development and Division of Architecture & Urban Design Professor Mi-Jin Park, Division of Architecture and Urban Design Professor Yong-Sam Hwang, Graduate School of Logistics Professor Kwang-Sup Shin, Mr. Hyo-Sun Lee, Assistant Director, Office of International Affairs from Incheon National University, Korea visited YNU.
The visitors were welcomed by President Yuichi Hasebe, Executive Director and Vice President Fumihiko Nakamura, Director of International Strategy Section Professor Hiromi Kabashima, International Strategy Organization Assistant Professor Ranmi Kim, and International Office Manager Tomoko Takeuchi.
After President Hasebe's welcome speech, President Cho greeted and explained about the purpose of this visit. After retired from Seoul National University, President Cho said he taught for 2 years at Peking University in China and was appointed President of Incheon National University. In addition, President Cho has experiences of collaborative research at the University of Tokyo and Hitotsubashi University and has common research field with President Hasebe. The discussion began with a peaceful atmosphere.
Thereafter, Prof. Hwang, who is in charge of preparing for the 11th International Seminar of Port-city University League (PUL) of which both universities are a member, told about the seminar. PUL is a new exchange network connecting not only universities but also citizens in port cities, where universities in one of the world's leading port cities hand in hand, thinking broadly about the culture related to the port. The 11th event organized by Incheon National University is scheduled to be held in September and Prof. Hwang explained about the preparation situation of the international seminar.
Subsequently Prof. Shin introduced the Port University Summit (PUS) scheduled to be held by Incheon National University for the same period as PUL. It is explained that PUS is the President's Meeting which Incheon National University is preparing to hold as a place to discuss about the roles that port-city Universities should play in the field of education and research against the background of a new social change such as the 4th Industrial Revolution. According to Prof. Shin, during the summit, Professor Michael Porter of Harvard Business School is scheduled to give a keynote speech, and on the last day, Summer Music Festival is planned where a pianist is scheduled to perform. Also, from President Cho, there was a request for keynote speech by President Hasebe in the round table, etc.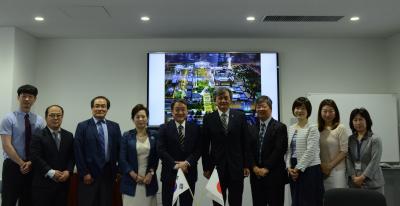 Finally, President Cho gave a presentation on Incheon University in that President Cho explained the university not only aims to be within 100 ranking of world universities but also aims to become world's No 1 university chosen by young people, and also continues to develop as a future-oriented university. There is also a proposal to set up both branch offices within both universities, and it is expected that exchange between universities will develop further in education and research.