A delegation from Dalian University of Technology, China visited YNU
A delegation from Dalian University of Technology, China visited YNU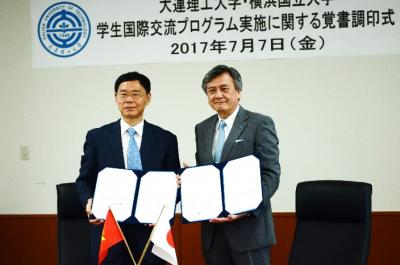 On July 7th Friday, 2017, President Dongming Guo, Dean Yang Li from Faculty of Chemical, Environmental and Biological Science and Technology, Dean Guohai Dong from Faculty of Infrastructure Engineering, Professor Yi Tan from School of Material Science and Engineering, International Office Deputy Director Jue Wang from Dalian University of Technology (DUT), China visited YNU.
The visitors were welcomed by President Yuichi Hasebe, Executive Director and Vice President Fumihiko Nakamura, Prof. Kazuo Konagai from Graduate School of Urban Innovation, Prof. Naoyoshi Tamura from Graduate School of Environment and Information Sciences, Professor Haoyuan Xu from International Strategy Organization and International Office Manager Tomoko Takeuchi.
In the welcome speech from President Hasebe, President Hasebe thanked DUT for holding "YNU Day at Dalian University of Technology" for two days in December 2015 and talked about active achievements of student exchange as an active partner university since the conclusion of academic exchange agreement in 2009. In addition, President Hasebe stated that we would like to place great importance on researches conducted at the Port-city Universities League (PUL) which both universities join in, and also promoting the development of double degree and joint degree is essential for achieving high quality education.
Following a greeting by President Guo, as a recent report of DUT activity, there was explanation about "Double first-class" which the Chinese government issued as higher education policies following 211 projects and 985 projects. "Double first-class" is to build double first-class universities in China, where there is a choice of whether to aim for first-class universities as a whole or aim for first-class department/college. President Guo said DUT has been selected as a first-class university as a research-oriented university. Among the universities adopted as first-class universities, DUT emphasizes international exchange particularly with Japan, which is characteristic in China.
In the field of education, based on the example of "DUT-RU International School of Information Science and Engineering" as a collaborative faculty with the Ritsumeikan University, President Guo said DUT is interested in developing collaborative faculty with other universities in the future. In addition, President Guo considers educational programs in Japanese and English that can confer a degree or grant credits in collaboration with YNU in the future.
After the greetings of both universities, a signing ceremony was held to renew a memorandum of understanding concerning the implementation of the international exchange program for students which is the main purpose of this visit, and it is promised to promote exchange among universities in education and research in the future.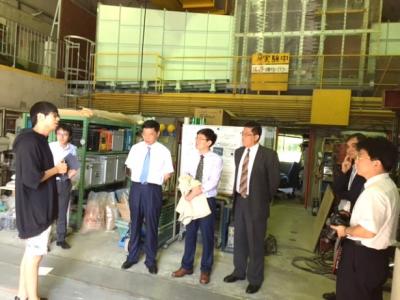 After lunch, the delegates took a campus tour of facilities and laboratories of civil engineering and mechanical engineering. In the civil engineering, Assistant Professor Satoshi Komatsu and Assistant Professor Haeyoung Kim from Graduate School of Urban Innovation showed concrete laboratory and wind tunnel laboratory. In the mechanical engineering, Associate Professor Takuto Araki from Graduate School of Engineering explained about Test and X-ray visualization equipment of Polymer electrolyte fuel cell, and Professor Kazushi Sanada from Faculty of Engineering showed Aqua Drive System, Machine Learning, Accumulator model and Real-time Measurement of power of fluid in the laboratory by using PowerPoints. At the laboratories, delegates could exchange with students from China and the students did the complementary explanation in Chinese.
It is expected that this visit will lead to the further development of DUT - YNU exchanges in the future.