President Hasebe attended the 3rd South Africa-Japan University Forum
President Hasebe attended the 3rd South Africa-Japan University Forum
From July 15th to July 16th, 2017 the 3rd South Africa-Japan University Forum (SAJU Forum) was held at Plaza Heisei, Tokyo International Exchange Center in Tokyo. President Yuichi Hasebe, Professor Nobuyuki Yoshikawa from Faculty of Engineering, Professor Osamu Koike from Faculty of International Social Sciences, Associate Professor Yuki Yamanashi from Faculty of Engineering, International Office Manager Tomoko Takeuchi, and administrative staff Ayaka Masuda attended from YNU on July 15th.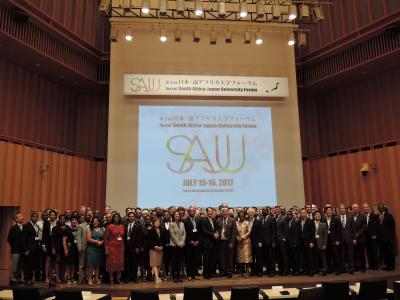 The main theme was "Cooperation between South African and Japanese universities toward achievement of SDGs (Sustainable Development Goals)". Many presidents and vice chancellors attended from 25 Japanese universities (18 national universities, 1 public university, and 6 private universities), 6 related Japanese institutions, 21 South Africans universities, and 7 related South African institutions. Participants discussed opportunities and possible academic cooperation between the two countries for contributions to solve local and global issues and to achieve SDGs.
YNU participated as one of the Japanese member universities of Organizing Committee of SAJU Forum. The forum was organized with 4 keynote lectures and 4 sessions as "Environment and Energy", "Health", "Education, Humanity and Society", and "Agriculture and Food". President Hasebe chaired Keynote Lecture 1 "Inter-university collaboration between Africa and Japan for achieving SDGs", presented by Visiting Professor Masafumi Nagao from Institute for the Advanced Study of Sustainability, United Nation University. President Hasebe also presented as one of presenters of "Environment and Energy" session.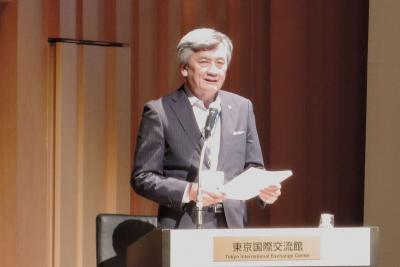 With the participation of this forum, it is expected to activate the relationship between YNU and South African universities.