A delegation from Anna University, India visited YNU
A delegation from Anna University, India visited YNU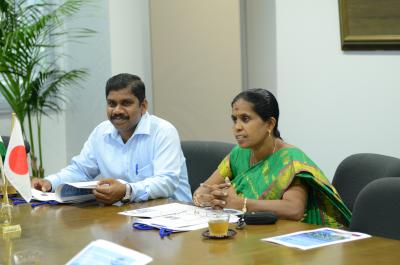 On July 26th Wednesday, 2017, Dr. Padma Prasad Valsalal Associate Professor & Deputy Director, Centre for International Affairs and Dr. Mukannan Arivanandhan Associate Professor, Centre for Nanoscience and Technology from Anna University, India visited YNU.
The visitors were welcomed by President Yuichi Hasebe, Executive Director and Vice President Fumihiko Nakamura, Professor Meguru Kaminoyama from Faculty of Engineering, Professor Atsushi Suzuki from Faculty of Environment and Information Sciences, Associate Professor Kazuho Nakamura from Faculty of Engineering and International Office Manager Tomoko Takeuchi. The delegation visited YNU in relation to The Foreign Technical Training Programme (FTTP) which was held from July 12th to 26th July, 2017 at YNU and th MoU regarding the study program was signed in this visit.
In the meeting, Dr. Valsalal explained about the context of FTTP. The Government of Tamil Nadu which drives the development of the industrial field in India announced that the state government dispatches 100 science and engineering university students and industrial technical college students studying in the state to advanced countries by the state budget, and this year 24 students out of selected students came to YNU. FTTP at YNU offers research lectures, open laboratory session, and industrial visits and cultural excursions in Yokohama area, in which the students learned Japanese culture, research development in universities and private sector, and it became a very fulfilling program. For many Indian students who participated, it was the first overseas experience which became a good opportunity to know about the choice of post-graduate school including Japan and also think about future job opportunities. Following the explanation of the program implementation, President Hasebe stated that such a program would be a good stimulus for YNU students as well as for internationalization of the campus at YNU.
With the implementation of FTTP and the signing of the agreement, it is expected that both universities establish a university exchange agreement and further develop educational and research exchange in the future.