A delegation from Colegio de San Juan de Letran, Philippine visited YNU
A delegation from Colegio de San Juan de Letran, Philippine visited YNU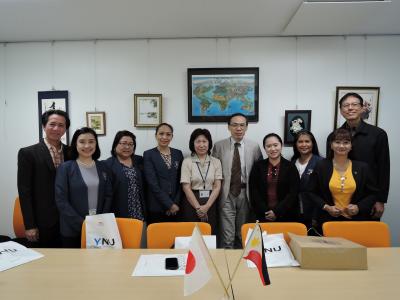 On August 28th Monday, 2017, Asst. Prof. Prescilia Abardo, Dr. Ma. Nancy T. Balasan, Engr. Katrina L. Lee, Dr. Ramon M. Marticio, Dr. Maria Luisa C. Porciuncula, Dr. Maria Victoria U. Rosas, Dr. Virginia V. Salonga, Asst. Prof. Juanito P. Victoria and Mrs. Elizabeth Edrosolam from Colegio de San Juan de Letran, Philippine visited YNU. The visitors were welcomed by Professor Haoyuan Xu from International Strategy Organization and International Office Manager Tomoko Takeuchi.
In the meeting, there were discussions regarding English programs offered by YNU which the students of Colegio de San Juan de Letran can attend. Professor Xu introduced various English programs offered in graduate and undergraduate level, and also short programs such as summer program. Among the introduced programs, summer program matches the needs of Colegio de San Juan de Letran and the detail was further discussed.
As this was the first time to visit YNU, after the meeting, the delegates had a short campus tour around the red stone, library, the building of the department of Economics, etc. It is expected that this visit will facilitate the further development between Colegio de San Juan de Letran and YNU.