YNU signed an Agreement on International Branch with Portland State University (USA)
YNU signed an Agreement on International Branch with Portland State University (USA)
On August 31st Thursday, 2017, YNU signed an agreement with Portland State University (PSU, USA) in setting up its international branch on the campus of PSU. YNU has concluded an exchange agreement with PSU in 2014, and we have made exchanges such as sending YNU students to PSU in YNU Intensive English Camp.
At the signing ceremony, President Yuichi Hasebe, Faculty of Urban Innovation Associate Professor Mihoko Matsuyuki, and International Office Administrative Staff Ayaka Masuda attended from YNU. The delegation were welcomed by Vice Provost for International Affairs Margaret C. Everett, Director of International Partnerships Joyce Hamilla, Director of the IELP (Intensive English Language Program) Julie Haun, Ms. Naoko Horikawa who will be engaged as a branch coodinator and other related faculties and staff of PSU.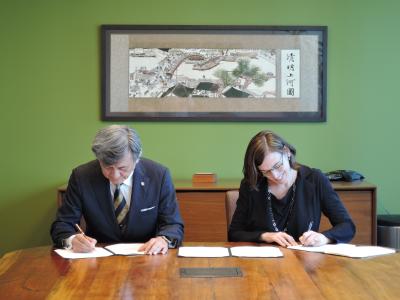 In the meeting, President Hasebe introduced College of Urban Sciences in YNU and said that he would like to promote exchanges mainly about urban-related field with PSU which is deeply connected with local community. Vice Provost Everett introduced students accepting program IELP and O-JaLoGoMa (Open-Japanese Local Governance and Management Training Program) offered by Associate Professor Masami Nishishiba, Chair of Department of Public Administration and Associate Director of Center for Public Service. Both agreed to promote research collaboration and student exchange in the field of urban planning and so on. After that, a signing ceremony was held and the agreement was concluded by President Hasebe and Vice Provost Everett.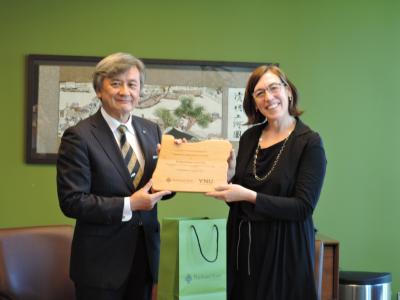 PSU-YNU International Branch is the sixth international branch of YNU following Vietnam, China, Brazil, Finland, and Thailand. It will be operated as a cooperative base for research especially in the field of YNU Overseas Short Term English Training Program, Japanese Studies, Urban Planning and Traffic Planning.