President Hasebe's delegation went to Portland and visited the Consular Office of Japan and Portland State University
President Hasebe's delegation went to Portland and visited the Consular Office of Japan and Portland State University
From August 29th to September 1st, 2017, President Yuichi Hasebe, Faculty of Urban Innovation Associate Professor Mihoko Matsuyuki, and International Office Administrative Staff Ayaka Masuda went to Portland and visited the Consular Office of Japan and Portland State University (PSU, USA). This visit was for the signing ceremony of an agreement on International Branch with PSU.
(Related news:
YNU signed an Agreement on International Branch with Portland State University (USA)

)
On August 30th Wednesday, 2017, President Hasebe and Ms. Masuda visited the Consular Office of Japan in Portland and met Consul General Kojiro Uchiyama and Consul Yoshinari Suda. In the meeting, we reported that we will have a signing ceremony of an agreement on International Branch in PSU on the next day. Consul General Uchiyama told us that PSU is integrated with the city and there is no boundary between the city and PSU. He also told us that urban agriculture is so active that farmers hold a farmer's market every weekend and many people prefer buying local foods. Moreover, we heard that the city is friendly for Japanese people and Asian communities. Related to such features of the city, research collaboration and student exchange in the urban field are expected to be further active in the future.
On the same day, Professor of Japanese Suwako Watanabe, Director of Institute for Asian Studies from Portland State University showed us the beautiful nature in the suburbs of Portland. There was rich nature not far from the center of Portland and we found that the city and the nature exist together in harmony.
After that, President Hasebe, Associate Professor Matsuyuki, and Ms. Masuda attended the reception of
O-JaLoGoMa (Open-Japanese Local Governance and Management Training Program)

at PSU. This program is offered by Associate Professor Masami Nishishiba, Chair of Department of Public Administration and Associate Director of Center for Public Service. Various participants such as from private companies, organizations, central government agencies, and local governments learned about local governance in Portland and the program seemed fruitful.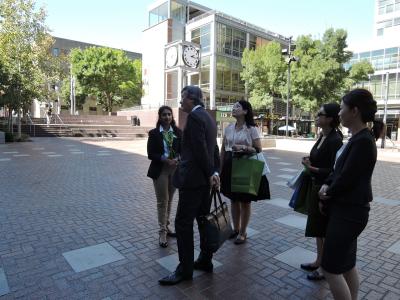 On August 31th Thursday, 2017, a student ambassador showed the delegation around the campus after the signing ceremony. We could see how integrated the city and PSU is through walking in the campus.
After the campus tour, the delegation had a meeting with 10 students who participated in YNU Intensive English Camp in PSU. With two YNU guest alumni who are studying in PSU, we had a lively conversation with questions and answers about the camp.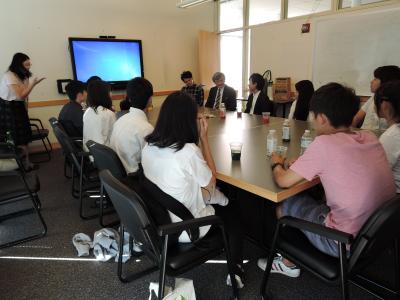 It is expected that this trip will lead to the further development of collaboration between YNU and PSU.