President Hasebe Attended Port-city Universities Summit (PUS)
President Hasebe Attended Port-city Universities Summit (PUS)
On September 18th, 2017, Port-city Universities Summit (PUS) was held at Incheon National University (INU), Korea. President Yuichi Hasebe attended from YNU.
Many presidents and vice chancellors attended from 52 universities and institutions including universities and institutions from port-cities and partner universities of INU.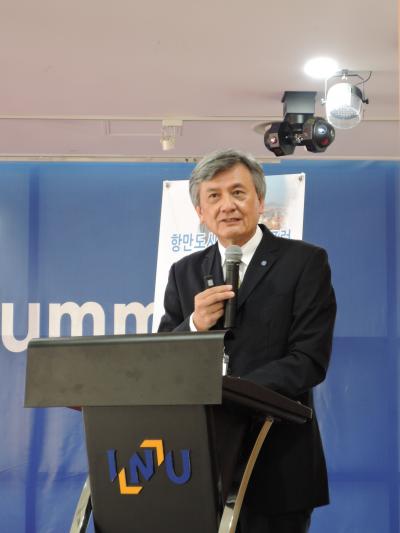 PUS consisted of keynote lecture given by Bishop William Lawrence University Professor Michael Porter from Harvard Business School and 3 roundtables as 1. "Role of universities in the age of Industry 4.0", 2. "Role of universities for port and port-city development", and 3. "Best practices of port development and international cooperation". President Hasebe gave a presentation in roundtable 2.
In the closing ceremony, Incheon National University President Dong-Sung Cho stated that all participating universities and institutions are appointed as founding members of PUS and PUS is held annually. Participants from Taiwan and UAE became the candidates to host the 2nd and 3rd PUS. The statement and the nominations were approved unanimously. Also, since YNU is the founder and the secretariat of Port-city Universities League (PUL), YNU was appointed as a leader of the founding members.
PUS was a valuable opportunity for YNU to build the exchange relations with universities' faculties including participants from partner universities of YNU. Through PUS, a huge international university network centered on port-city universities is expected to be established.