The 11th international seminar of Port-city Universities League (PUL) was held in Incheon National University, Korea from September 18 to 20, 2017
The 11th international seminar of Port-city Universities League (PUL) was held in Incheon National University, Korea from September 18 to 20, 2017
The 11th Meeting of the Port-city Universities League (PUL) "Sustainable Port Developments and Roles of Port Cities" was held by Incheon National University, Korea (Organizer: Prof. Gyewoon Choi, Dept. of Civil & Environmental Engineering), Incheon Metropolitan City, and Incheon Port Authority from September 18 to 20, 2017.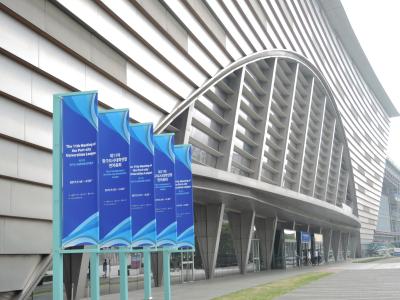 The Port-city Universities League (PUL) was proposed by YNU and established in 2006. The purpose of this league is to build a network between the universities located in port cities in the world. The members also aim to share various cultural aspects related to port areas such as history, trading, industry, oceanographic research and life style by involving residents around the areas. 15 universities from 12 countries currently belong to PUL as members.
The members of YNU delegation were Vice-President and Executive Director of International Affairs Fumihiko Nakamura, Faculty of International Social Sciences Professor Ichiro Araki, 4 YNU-DEEPS members, who were Faculty of Environment and Information Sciences Professor Hiroyuki Matsuda, Faculty of International Social Sciences Professor Hiromi Kabashima, Center for Oceanic Studies and Integrated Education Visiting Professor Koichi Yoshida and Specially Appointed Associate Professor Tomoko Kakee, and International Office Administrative Staff Ayaka Masuda.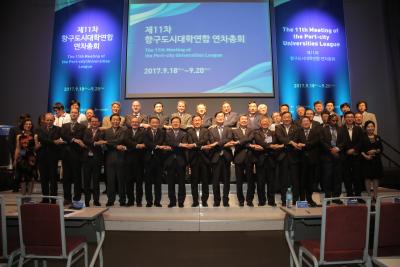 On September 18th and 19th, there were presentations by several members of PUL and some participants from other universities and institutions who were invited by Incheon National University.
On September 18th, prior to the opening, Bishop William Lawrence University Professor Michael Porter from Harvard Business School gave a keynote lecture. After moving to Songdo Convensia, Executive Director Nakamura gave a keynote speech on "Smart urban transportation system for port cities -lessons from Yokohama".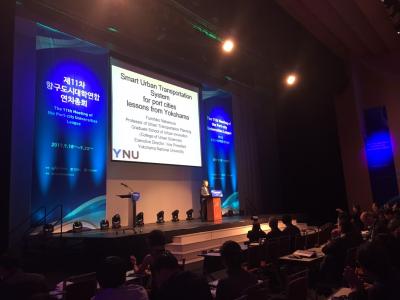 After that, 6 sessions "Session 1: Marine / Port Tourism Development", "Session 2: Port & Logistics", "Session 3: The Port and Sea of Incheon", "Session 4: Green Port City Planning and Offshore Engineering", "Session 5: Marine Pollution, Human & Ecosystem Health, and Blue Carbon Recycling in Port Cities", "Session 6: The Future Vision of Port City Incheon" were held.
From YNU, Professor Matsuda chaired Session 1, Professor Araki gave a research report on "Freedom of transit in WTO law" in Session 2, and Professor Yoshida gave a research report on "Toward the establishment of ISO standards for Marine Environment Impact Assessment (MEIA)" in Session 5.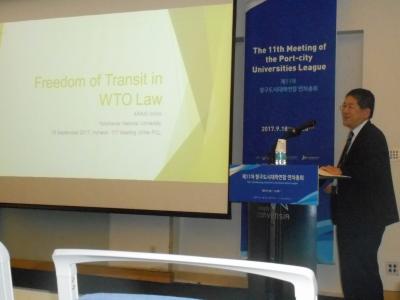 In the morning of September 19th, 3 sessions "Session 7: Green Port and Environment", "Session 8: Smart IT Applications and Its Trend", "Session 9: DEEPS (Deep-sea Resource Exploration and Environment Protection Study)" were held.
From YNU, Professor Araki chaired and Professor Yoshida and Associate Professor Kakee participated as discussants in Session 9. Firstly, Associate Professor Kakee presented about the outline of YNU-DEEPS, then research reports were given, namely "Ecosystem approach for integrated ocean management" by Professor Matsuda and "YNU-DEEPS' Challenge to the Deep-Sea Resources Exploration and Environment Protection-Examining breakthrough on social dilemma" by Professor Kabashima.
After each presentation, the audience asked many questions and lively discussed about the introduced topics.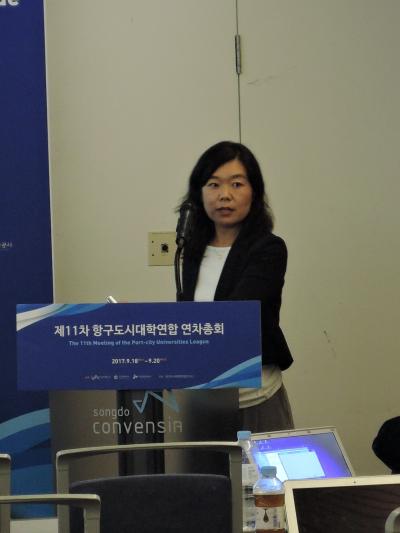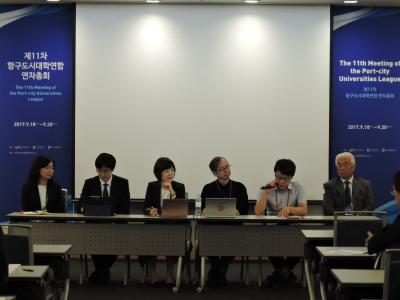 In the afternoon of the same day, there was a report about new actions to create new research collaboration starting with the Research Roadmap suggested by the University of Southampton.
On September 20th, Incheon Port Authority showed around the port of Incheon by LNG (Liquefied Natural Gas) - fuelled vessel "Eco-Nuri".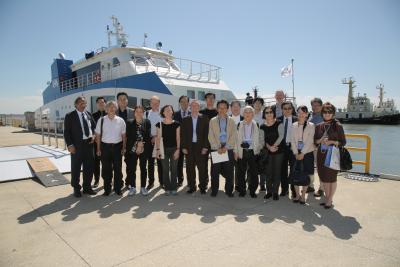 In this seminar, we found out that new research collaborations are active and successful, and it is expected that this will facilitate further cooperation with members of PUL. The place of the 12th meeting will be announced on
the PUL website

as soon as it is decided.