YNU students attended the 50th ADB Annual Meeting YOKOHAMA 2017
YNU students attended the 50th ADB Annual Meeting YOKOHAMA 2017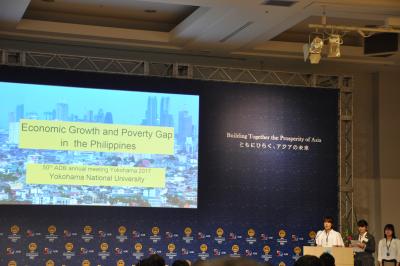 The 50th ADB Annual Meeting YOKOHAMA 2017 was held at PACIFICO Yokohama and neighboring hotels from 4th to 7th May 2017. The Asian Development Bank Annual Meeting was held in Japan every ten years, and in 2017 it became the 50th milestone, where YNU President Yuichi Hasebe was appointed as a member of the ADB Annual Meeting Yokohama Promotion Council. On 6th May, the Next Generation Development Seminar "Towards Poverty Reduction and Inclusive Economic Growth - Analysis and Attempts of Practical Business Education Program by Young People in Yokohama -" was held and students from YNU participated. YNU students did presentation on what they analyzed and discussed based on the field survey conducted in February this year in the Philippines, and what the path to solution should be for the congestion caused by poor traffic infrastructure and the economic loss. In the subsequent discussion, YNU students discussed these issues with ADB experts and students from other universities and at the end they made recommendations for ADB. In addition, all this seminar was held in English.
The presentation above mentioned can be seen from
YouTube YNU official account.