UD-YNU International Branch hosted a special intensive lecture at the University of Da Nang, University of Science and Technology
UD-YNU International Branch hosted a special intensive lecture at the University of Da Nang, University of Science and Technology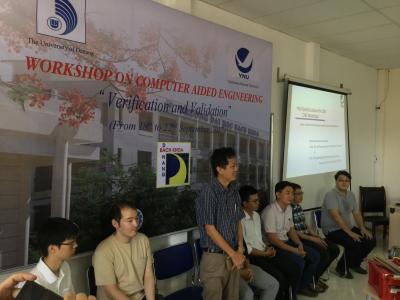 From Monday September 18th, 2017 to Friday 22nd, a special lecture for the University of Da Nang hosted by UD-YNU International Branch, "CAE Workshops – from Class Room Simulation toward Practical Simulations –" was conducted. From YNU, Assoc. Prof. Takuto Araki and Assoc. Prof. Tomoyuki Shimono from Faculty of Engineering and Assoc. Prof. Kazumi Matsui from Faculty of Environment and Information Sciences visited and taught the lectures equivalent to 15 classes for 5 days for approximately 40 undergraduate students from Mechanical Engineering, Transportation Mechanical Engineering, Electrical and Electronic department of the University of Da Nang, University of Science and Technology.
The classes were about V & V (Verification & Validation), which is a guideline for engineering simulation to operate appropriately, in a workshop style that intertwined practical training, lectures, experiments and simulation software.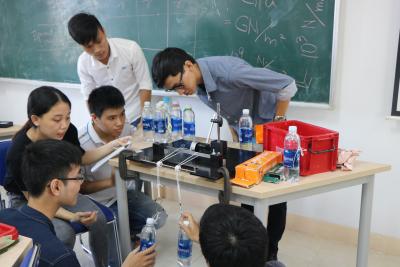 In the questionnaire of the students participated in this lecture, there were wishes to continue the class in the next year and wishes to implement in other fields, and also the high evaluation towards lively lessons. Although this special lecture was the first trial event that UD-YNU International Branch hosted, based on the above favorable voices from students and faculties of the University of Da Nang, UD-YNU International Branch with the coordination of Dr. Le Anh Tuan, the branch manager, plans to expand the special intensive lecture held by YNU faculty members.
Through this special lecture, the further development of exchanges in educational and research activities with the University of Da Nang is expected.