A delegation from Thammasat University, Thailand visited YNU
A delegation from Thammasat University, Thailand visited YNU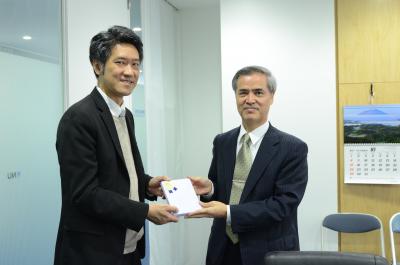 On October 30th Monday, 2017, Associate Professor Chalermwat Tantasavasdi, Dean of Thammasat Design School, Dean of Faculty of Architecture and Planning, Dr. Siwaporn Klinmalai, Assistant Dean for Research and Graduate Studies, and Ms. Fa Likitswat, Assistant Dean for International Affairs from Thammasat University, Thailand visited YNU. The visitors were welcomed by Executive Director and Vice President Fumihiko Nakamura, Dean Satoru Sadohara and Assoc. Prof. Mihoko Matsuyuki from Faculty of Urban Innovation, and International Office Manager Tomoko Takeuchi.
The meeting started with a relaxing atmosphere by sharing teaching experience of Executive Director and Vice President Nakamura at Asian Institute of Technology in Thailand during 90's. Although Thammasat University and YNU has an exchange agreement between universities since 2008, as the purpose of the visit lies in academic and educational exchange in the field of architecture, Executive Director and Vice President Nakamura introduced mainly about Graduate School of Urban Innovation and College of Urban Sciences. Especially, Yokohama Graduate School of Architecture (Y-GAS), the course to obtain a master's degree by submitting portfolio, while conducting 4 projects with studio education in a small group is introduced.
From Thammasat University, Dean Tantasavasdi explained about the outline of the university such as the number of total students, the 97th ranking in the QS Asia University Rankings 2018, and overview of Faculty of Architecture and Planning established in 2000 etc. by using brought materials. Also, it is told that going abroad during summer vacation is a trend among students and Thammasat University encourages students to go abroad as well. Thammasat University hopes to implement a study program that allows them to send students in the field of architecture in YNU, and YNU has been promised to continue considering at the Department of Architecture and Building Science.
Through this visit, the further development of exchanges with Thammasat University is expected.