A delegation from Hindustan University, India visited YNU
A delegation from Hindustan University, India visited YNU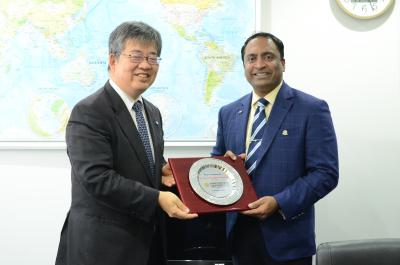 On November 7th Tuesday, 2017, Director Ashok Verghese and Dr. David T. Easow, Deputy Director, School of Management & International Affairs from Hindustan University, India visited YNU. The visitors were welcomed by Executive Director and Vice President Fumihiko Nakamura, Prof. Meguru Kaminoyama from Faculty of Engineering, Prof. Atsushi Suzuki from Faculty of Environment and Information Sciences, Assoc. Prof. Kazuho Nakamura from Faculty of Engineering, and International Office Manager Tomoko Takeuchi.
This visit was arranged by the cooperation of Prof. D Mohan who has retired from Anna University in India with which YNU has exchange and who is currently employed at Hindustan University. For Director Verghese and Dr. Easow, it was the first visit to YNU and Japan. In the meeting, Director Verghese explained about the outline of the university such as its celebration of the 32nd anniversary of its foundation, its acquisition of QS 3 Stars Ratings, and its focus on fields such as automobile engineering, civil engineering, mechatronics, etc. Also, it is told that many students tend to study overseas in the Far East such as Korea, China, Singapore, Malaysia, etc. by using summer vacation or semester, but there is no agreement with Japanese universities yet, therefore, Director Verghese expressed his hope to develop research and educational exchange with YNU.
YNU will invite Prof. D Mohan in December for a symposium and it is promised that with the implementation of this symposium, Hindustan University and YNU start to promote research cooperation and student exchanges in the common research field.
Through this visit, the further development of exchanges with Hindustan University is expected.