A delegation from Ming Chuan University, Taiwan visited YNU
A delegation from Ming Chuan University, Taiwan visited YNU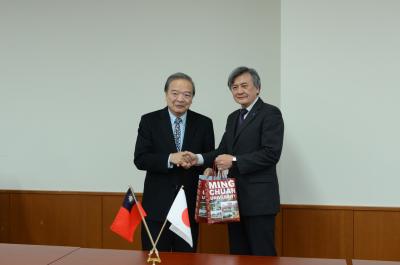 On November 14th Tuesday, 2017, President Chuan Lee and 6 professors from Ming Chuan University, Taiwan, President Feng Yan Guo from Yokohama Overseas Chinese School, and General Manager Chen Hsin Hung and a staff from Taipei Economic and Cultural Representative Office in Japan, Yokohama Branch visited YNU. The visitors were welcomed by President Yuichi Hasebe, Executive Director and Vice President Fumihiko Nakamura, Professor Haoyuan Xu and Professor Chie Yomota from International Strategy Organization and International Office Manager Tomoko Takeuchi.
This visit was arranged by the cooperation of Yokohama Overseas Chinese School President Guo who has a deep relationship with Ming Chuan University and for Ming Chuan University, it was the first visit to YNU. In the meeting, President Hasebe stated welcome greetings and an outline of YNU, followed by President Lee remarked their appreciation and the university introduction. President Lee also mentioned that Ming Chuan University is active in international exchange, having over 150 exchange partners which are included especially almost 20 Chinese leading universities. In addition, Ming Chuan University is the first Taiwanese university which established U.S. accredited offshore campus in America, and in 2000 the university opened International College which is the first college in Taiwan offering courses completely taught in English. The possibility of starting research and student exchange being brought into the conversation, the meeting ended in a peaceful atmosphere.
After the meeting, the delegation took the campus tour and Professor Yomota guided the introductory and advanced Japanese classes which are taught by Associate Professor Chiemi Hanzawa and Professor Yoshimi Ogawa of International Strategy Organization. The delegation could see the part of student life at YNU by also visiting the Central Library and Student Center.
Through this visit, the further development of exchanges with Ming Chuan University is expected.