A delegation from Indian Institute of Technology Hyderabad (IITH), India visited YNU
A delegation from Indian Institute of Technology Hyderabad (IITH), India visited YNU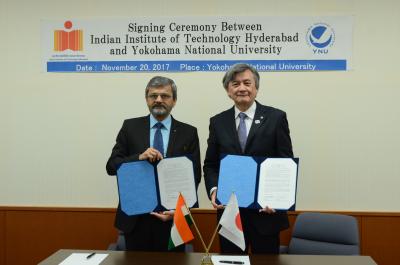 On November 20th Monday, 2017, Director U.B. Desai, Dr. Sireesh Saride, Associate Professor & Associate Dean (Planning), Department of Civil, Engineering and Dr. Siva Kumar K, Associate Professor & Associate Dean of International and Alumni Relations, Department of Electrical Engineering from Indian Institute of Technology Hyderabad (IITH), and Mr. Takashi Den and Mr. Taku Yoshida from Technical and Higher Education Team from Japan International Cooperation Agency (JICA), Project Coordinator / Industry-Academia Collaboration Coordinator Miki Matsuo from JICA-FRIENDSHIP PROJECT and Ms. Miho Mizutani from International Hospitality and Conference Service Association (IHCSA) visited YNU.
The visitors were welcomed by President Yuichi Hasebe, Executive Director and Vice President Fumihiko Nakamura, Distinguished Professor Yozo Fujino from Institute of Advanced Science, Dean Satoru Sadohara and Associate Professor Mamoru Kikumoto from Graduate School of Urban Innovation, and 2 master students, Mr. Pranav and Mr. Saicharan, who have been studying at YNU from IITH.
This visit was arranged for the purpose of the signing ceremony between IITH and YNU for academic exchange agreement, and in welcome greetings from President Hasebe, it was mentioned that the number of exchange agreements with Indian universities is increasing and the future research exchange between IITH and YNU in the field of civil engineering and also advanced fields are expected. From Director Desai, it was introduced that IITH is currently interacting with 12 to 13 Japanese universities, they expect to cooperate not only with civil engineering but also in cyber security field, and till now 74 IITH graduates have learned in master and doctoral courses in Japanese universities. Distinguished Professor Fujino who has worked hard for this agreement also gave a greeting.
After signing the agreement, conversation topic moved to the automobile industry in India and Director Desai introduced the request for research development on electric vehicles from the Indian government in response to the problem of air pollution caused by the exhaust gas in the Indian society. Also, the production and sales situation of Japanese automobile manufacturers in India being discussed, the meeting ended in a peaceful atmosphere.
Through this visit, the further development of exchanges with Indian Institute of Technology Hyderabad (IITH) is expected.