Indian researchers from 12 Indian institutions visited YNU
Indian researchers from 12 Indian institutions visited YNU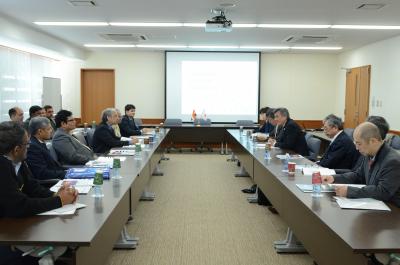 On December 12th Tuesday, 2017, 15 Indian researchers from 12 Indian institutions listed as below visited YNU in relation to Japan-India YNU Symposium 2017 on "Emerging Materials & Systems for Green and Life Innovations" held by YNU. The visitors were welcomed by President Yuichi Hasebe, Executive Director and Vice President Fumihiko Nakamura, Prof. Meguru Kaminoyama and Assoc. Prof. Kazuho Nakamura from Faculty of Engineering, Prof. Atsushi Suzuki from Faculty of Environment and Information Sciences and International Office Manager Tomoko Takeuchi.
In the meeting, President Hasebe stated welcome greetings and an outline of YNU, in that he also mentioned that India is the leader of 21st century and YNU would like to further promote Japan-India collaboration as an important global partner. Followed by that, the participants from YNU and the Indian researchers introduced themselves and respective specialized fields one by one, and exchanged information about respective research fields and exchange situation.
Although there are only 5 Indian students in YNU at the point of May 2017, YNU has newly concluded agreements with IITH, VIT and IISc this year as well as IITM with which YNU has already concluded an agreement in 2016. With this expansion, it is expected that student and research exchanges with Indian institutions become more active.
Through this visit and Japan-India YNU Symposium 2017, the further development of exchanges with Indian institutions is expected.
Indian Institute of Technology, Guwahati(IITG), Director, Prof. Gautam Biswas
Tamil Nadu Open University, Vice Chancellor, Dr.M.Bhaskaran
Indian Institute of Technology, Madras(IITM), Prof. A. Kannan
Indian Institute of Technology, Madras(IITM), Assoc. Prof. Raghuram Chetty
Anna University, Prof. N. Rajendran
Hindustan University, Prof. D. Mohan
VIT University, Assoc. Prof. Mahesh Ganesapillai
VIT University, Assoc. Prof. Aruna Singh
Indian Institute of Science(IISc), Prof. K Ganapathy Ayappa
Indian Institute of Science(IISc), Assoc. Prof. Abhishek Singh
Indian Institute of Technology, Roorkee(IITR), Assoc. Prof. B. Venkata Manoj Kumar
BHU Varanasi, Assoc. Prof. Dubey Ashutosh Kumar
National Chemical Laboratory(NCL), Dr. Thirumalaiswamy Raja
Pandit Deendayal Petroleum University(PDPU), Prof. Rajib Bandyopadhyay
Central University of Kerala(CUK), Assoc. Prof. Ayyamperumal Sakthivel