Special interview with President Yuichi Hasebe and Prof. Yukiko Tashima from International Strategy Organization
Special interview with President Yuichi Hasebe and Prof. Yukiko Tashima from International Strategy Organization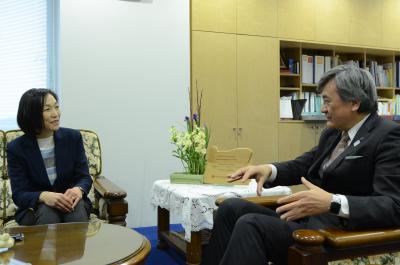 YNU set up its sixth international branch in Portland State University (PSU, USA) in 2017. As the feature article of Close Up YNU, we conducted an interview with President Hasebe Yuichi and Prof. Yukiko Tashima about Portland State University (PSU) and the city of Portland, Oregon. President Hasebe attended the signing ceremony for the international branch in PSU last March. Prof. Tashima has developed a close connection with PSU since her first year in YNU, 2004.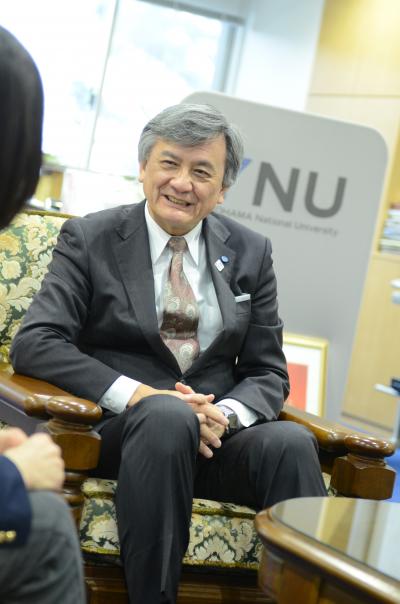 - How did the exchange with PSU and YNU begin?
Tashima: My teaching career started at high school. After a long teaching experience, I had a chance to study abroad in PSU on a scholarship and earned the second MA-TESOL (Teaching English to Speakers of Other Languages) from the university. Fortunately, I got a job in YNU immediately after my return to Japan. Since PSU gave me many wonderful experiences including the job of Japanese TA, I was always thinking I would like to build a good relationship between YNU and PSU if I had a chance. My main job in YNU is to teach freshman and sophomore English and coordinate English curriculum in liberal arts . Then, I gradually noticed that the majority students who left for a long-term overseas study were those from the College of Economics and the College of Business Administration, but very few students from the College of Engineering Science. They knew how difficult it would be to go for a long-term overseas study, because they were too busy to cope with their daily studies at least three years. They are unlucky students from my point of view of an English teacher. Then, I started to look for a good language institution which could provide high-quality short-term English programs at a safe learning environment. Then, I noticed I could visit my alma mater PSU and talk with the coordinators of ESL International program. I visited them one summer and I was satisfied with the English program there. I started to introduce PSU programs to my students on an individual basis. Just then, coincidently, matching with the move toward internationalization in YNU, the short-term intensive English program in PSU became a candidate place for YNU Intensive English Camp. The program was successfully chosen. Now the students from the College of Engineering Science as well as the College of Education can apply for this PSU program. I am always glad to hear that the coordinators and English instructors say YNU students are wonderful and hard workers.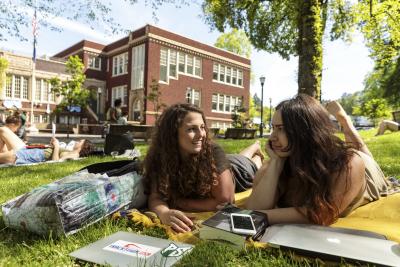 Hasebe: I understand how YNU started to exchange with PSU. When I visited PSU for the first time and last year to attend the signing ceremony, I met and talked with YNU students in the short-term intensive English program in PSU. I think the program was very good. The reason says students from various colleges can participate in the same program and they can not only learn practical English but also experience homestay and various excursions during their stay. I am very grateful that such a wonderful place was chosen for YNU short-term overseas study.
Tashima: I think the final goal should be a long-term overseas study, so I hope this PSU program will give YNU students a chance to go forward the next step for studying abroad as an YNU exchange student or working overseas as a businessman in the future.
Hasebe: I think the first step is important. I hope our students will see various things and places, study abroad in universities, and meet and learn together with foreign students in the same generation.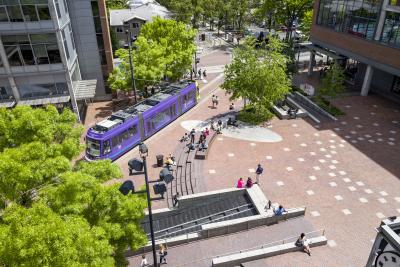 - What is the purpose of setting up the international branch in PUS?
Hasebe: As a University, there are 2 purposes to set up the branch in PSU, besides an institution for sending YNU students to the short-term intensive English program. The first one is related to the urban problems. After the Great East Japan Earthquake in 2011, one clear finding was that disaster prevention and post-disaster reconstruction need not only "hardware" such as physically rebuilding to its original state, but also "software" such as how to strengthen connection with citizens daily; in other words, making community. Therefore, I believe that we must solve a few problems in this urban issue: how to make a community in the city, how to make a comfortable living environment and how to build a better public transportation model. According to some experts of city planning or public transportation, Portland is a holy ground of city planning and public transportation, and I became more realized it was true through my two visits to the city. If I assume the tram in Portland is the Skyliner of KEISEI from Narita airport, for example, the "airport-train" comes to downtown and runs through the city center and then gets directly to a university from the airport. Furthermore, the two main transportations, trams and buses, are coordinated very well. This successful case of Portland suggests that local industries and a university in the community can cooperate for city development. So, I think it is meaningful to collaborate with PSU in the field of urban planning and public transportation. YNU established the Institute of Advanced Sciences (IAS) in 2014 which aims to create the field of sustainable living with risk management. IAS has worked on those problems of urban development. Therefore, I think there is a big meaning to set up a branch in PSU in the point of cooperation with the field of sustainable living with risk management.
Tashima: I see. I strongly agree.
Hasebe: The second purpose is to cooperate with local areas. The various projects are created through a community in Portland, and private companies support the university to advance the project together. I think such a style of industry-university cooperation will be important in the future. For us, while cultivating global human resources and promoting global researches in the world-class level, we want to put a more focus on local problems in Yokohama and Kanagawa at the same time. Now, Yokohama is selected as the model of "FutureCity" by the government, and the city is actively promoting the project of sustainable future cities. Portland has already established a good reputation as a nature-friendly sustainable city. For the realization of "FutureCity", YNU can contributes to the cooperation between Yokohama and Portland, which I think is the role our PSU branch can fulfil.
- Portland's city planning, public transportation and the environment are being talked now, but what kind of place do you feel it is actually?
Tashima: Well, what I got impressed by public transportations in Portland was about bicycle. For example, there is a tool to keep the bicycle standing on the tram, and if a citizen reports his or her first bike-commuting to the city, the person can get a nice kit useful for bike-commuting. Bike-commuters can enjoy the infrastructure like a safe bicycle road and the back-up from the city. This supportive condition gave much popularity to bicycles and this two-wheel vehicle is now publicly counted as a means of transportation. I like this total way of environmental friendly idea.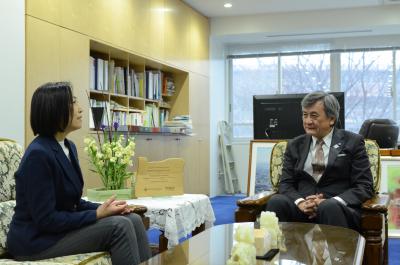 Hasebe: I heard the similar story as you said from Prof. Nakamura, Director of International Strategy Organization when we went to Portland together 2 years ago. According to him, many big cities in the U.S. put a priority on the car, and the expressway is getting more and more into the center of the city, but on the contrary Portland eliminated it. The city keeps maintaining the traffic by operating public transportation and put the highway from the downtown area. It is said that Portland is the city that began the very first unique initiative in urban planning in the U.S.

Tashima: There are many American universities in the suburban area of Portland, but PSU locates within the downtown area. Because of this location, I feel various kinds of people are learning in PSU. The downtown itself looks like a part of PSU. I had many experiences that I got impressed by high consciousness of life and professional knowledge that ordinally people show when I happened to speak to on the street and on the tram.

Hasebe: The reason why I got interested in Portland is author Haruki Murakami. In his essay, he talked about two Portlands in Oregon and Maine State and I came to know that Portland in Oregon is the most popular city which young Americans want to live in.


Tashima: Yes, I heard two interesting catch phrases, "Keep Portland Weird" and "Portland: Where Young People Go Retired".
Hasebe: I see. Actually, when I walked the Portland downtown, I found fashionable restaurants and cafes, secondhand bookstores, and old record stores. I felt people in Portland cherish their culture and tradition very much. Also, I have heard that people in Portland call themselves Portlandia or Portlander, which is an evidence that they are proud to live there and are establishing a Portland brand, I think.
Tashima: Yes, I also feel it is an interesting city full of diversities in many aspects.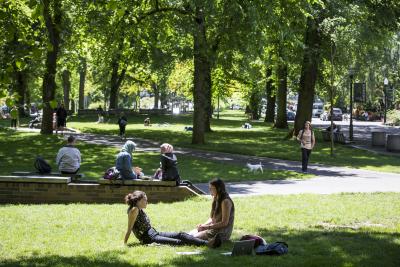 - What do you think are the differences between PSU and YNU? What kind of things you would like to learn from PSU?
Tashima: One of the differences between PSU and YNU is the diversity of students there. For example, some elderly-people study hard in graduate school to become a professionally qualified English teacher who can teach English to immigrants from different countries in the city. Other adult students are those working for companies in the field of commercial business, urban planning, and so on. Students are diverse in ages, races, and real-life experiences. Many citizens with bachelor's degree come back to learn in PSU for various purposes, so I had an impression that PSU provides various master courses.
Hasebe: I feel the same way. Differences of ages, colors of skins---these create a diversity. This is not only about PSU but also other American universities. Diversity is in a university and it vitalizes education and research: this can be called "a system." Another difference between PSU and YNU is that there is no wall around PSU. While walking in Portland, I found I was in PSU campus, or in front of a restaurant before I noticed it. The trams are running into the campus and the stations are on campus. The city is part of PSU campus and PSU campus is part of the city.
Tashima: Yes, 3 types of public transportations are available on campus.

Hasebe: As for the location, YNU in Tokiwadai is difficult to change to a campus like PSU. But still, I think it will be getting more important for us, faculties and students, to go down to the community together and conduct collaborative activities with citizens and companies. In that sense, the Global-Local Education and Research Center as well as all colleges and graduate schools of YNU should not only think over but act toward better urban developments by sending more teachers to filed work and more students to on-site trainings.


- The International Branch in PSU has just established this fiscal year and we hope faculty and staff will work together to promote exchange activities, which will be important for its future development. Thank you very much for your talking today.



【Profile】
Yuichi Hasebe

President of YNU. Master of Economics. He held positions such as the chairman of the Pan Pacific Association of Input-Output Studies and the advisor to the Chinese Input-Output Association. His research fields are comparative economic systems, input-output analysis, and environmental economics.
Yukiko Tashima

Professor of English Education Section, International Strategy Organization of YNU, coordinating common core curriculum in English. She received her second M.A. in TESOL from Portland State University, Oregon, U.S.A. in 2004. Her research interests include material development for reading and writing.