Interview to Foreign Researchers: JICA Nikkei Training Program in Japan
Interview to Foreign Researchers: JICA Nikkei Training Program in Japan
The JICA Nikkei Training Program in Japan is a project open to the public that is aimed at contributing to the development of Nikkei society and the nation-building of the destination countries through technical cooperation to Nikkei people in Latin America region. YNU accepts several researchers every year, and this time, Dr. Isabele Kazahaya Borges ("Biotechnology Course" offered by Prof. Minoru Takeda, Faculty of Engineering) and MD. Roberta Cristine Suetugo ("Biomaterials, biomedical devices, and regenerative medicine Course" offered by Prof. Junji Fukuda, Faculty of Engineering) were interviewed.
- May I ask you about your background and the reason to apply for JICA program?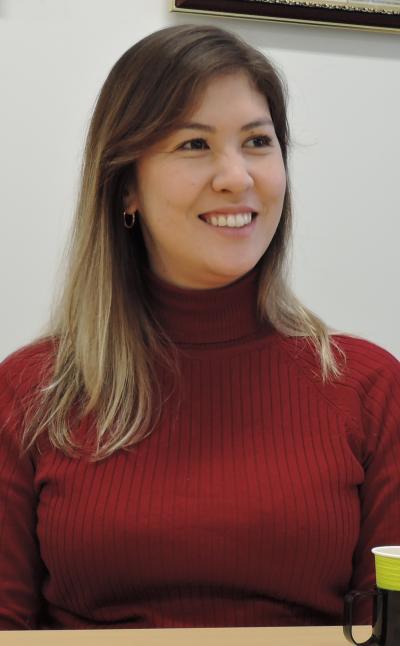 Isabele: I'm a pharmacist. After my undergraduate course, I went to Okayama University Hospital for 5 months through a program organized by Okayama Kenjin-kai and the Okayama prefectural government, then I took the Master and Doctor Course at Londrina State University. Last year, I finished my PhD, and during PhD I took a job in a private university as a teacher for pharmacy, nutrition and biomedical science where I taught for 3 years. Then I decided to come to Japan by JICA program to learn more about biotechnology.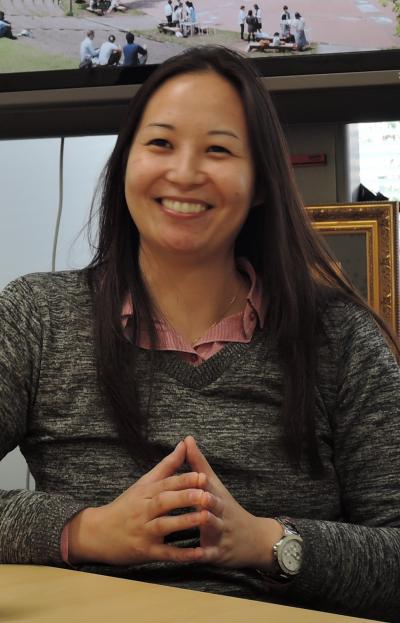 Roberta: I'm a doctor. After I finished medical school, I entered the course for specialization in Ophthalmology for 3 years, which I finished last year. Then I found the JICA program about the research in biomaterials, biomedical devices, and regenerative medicine at YNU. Because I practically had no contact with the research area during all these years, I decided to come to Japan to learn about regenerative medicine. Before the JICA program, I worked as ophthalmologist with clinical care of patients from the public health system and the accomplishment of surgical procedures such as cataract surgery, glaucoma surgery, laser photocoagulation, intravitreal injection of antiangiogenics, etc. I worked as emergency doctor at emergency clinics and hospitals as well.
- What is the impression of YNU and Yokohama?
Isabele: Yokohama is a very big and comfortable city and Japan has many advanced systems, such as their transportation system. The JICA Yokohama building in Minato-Mirai where we live is in a good location and has a very comfortable room.
Roberta: Yes, YNU has very great structure and it's open to international students. There are more international students than at my university. In that sense, life in YNU is very comfortable for a foreign researcher like me and Yokohama is a good place to live.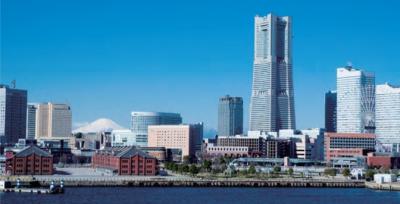 - What do you do in JICA program?

Roberta: My research area at YNU is about eye cells. Damage on the ocular surface is very common. The eye usually heals without any complications, but when the eye has some disease, the injury on the ocular surface can persist, sometimes it can be infected and it may also progress to perforation. We culture the mouse eye cells and create a structure similar to what we have in the human eye to be transplanted when a wound occurs. It's to help in the eye healing, promoting its closure and decreasing the chances of infection and perforation. When I joined the Prof. Fukuda's lab, I spent 3 months to set my project research, but 10 months at YNU is not enough to finish as it will take one or two years to finish all research steps. So probably I will continue the research in Brazil after going back. My laboratory has about 25 people. We have a seminar once a month and lab meetings regularly. One of the lab members helps me because I never worked in this research area in Brazil. Usually I conduct experiments one or two hours and spend all day at laboratory by reading papers, etc.

Isabele: My case is different - I joined Prof. Takeda's research and I help master and PhD candidates with their experiments by guiding the best way in bacterial polysaccharide production and characterization as I have experiences in experiments with bacteria and fungi in Brazil. And I also try to apply the bacterial polysaccharide sheet which Prof. Takeda made to pharmaceutical science for drug delivery system. And now we are trying to make nanoparticles with the same bacterial polysaccharide. Through this JICA program, we will publish one paper in April of this year (the online version is available already) and another paper is going to be submitted.


- Along with your research, do you take Japanese class for international students?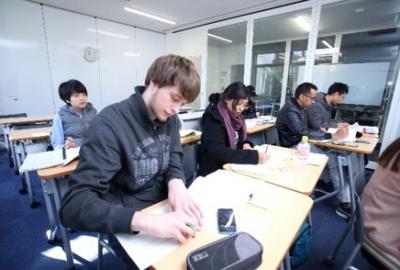 Isabele: Last semester we took only one basic class, but this semester I am taking five classes- two classes for the basic class, one for Kanji, one for speak/listening and one for writing, which improve my Japanese skill very much. I hope to take the Japanese Language Proficiency Test in Brazil next November. I have a lot of chances to communicate with other international students such as Bangladesh, Vietnam and Myanmar who come by YCCS and doctoral programs.
Roberta: I took four classes per week- three for the basic class and one for Kanji. The Japanese classes are great. I really enjoyed the lessons by Hanzawa-sensei and Kim-sensei. Sometimes it is a little difficult to go to class because of lab activities, conferences and trips, but studying Japanese at YNU is a great opportunity for me. I learned a lot in the Japanese classes and also met many people from different countries. I made many friends.

- Do you think it is necessary to take Japanese classes during the JICA Program?

Isabele: It's best in terms of communication. Because in my laboratory, I am the only international student and Prof. Takeda tries to communicate in English, but sometimes students talk to me in Japanese. It helps to improve my Japanese skill but at the same time I feel that Japanese is necessary.

Roberta: In my case I have studied Japanese in Brazil only for one month and the classes are very good for me. In the laboratory, there are researchers from Russia and Australia, and I have a chance to communicate in English, but Japanese is important to communicate with the other students in the laboratory.



- How would you like to make use of this experience at YNU in your carrier?
Isabele: I want to continue to apply these experiments to some diseases popular among Nikkei people in Brazil. For example, most Nikkei people use glasses and eye drops and also has stomach related diseases, and I hope to apply this nanoparticle to healthcare. For that I would like to work as a researcher in research center or pharmaceutical industry and try to help care for the Nikkei's health.
Roberta: I had great experiences in the lab, university, and Japanese language school here in Japan, as well as getting to know Japanese places, customs, and traditions. The research area is important in any medical field of knowledge to improve human living conditions. So, I would like to keep studying and doing research with the purpose of disseminating learning experience and its application in the medical field including ophthalmology mainly within the Japanese community in Brazil. When I came to Japan to do the JICA course at YNU, many friends and family members also became interested. I would like to tell many people that it's a great opportunity and a good life experience.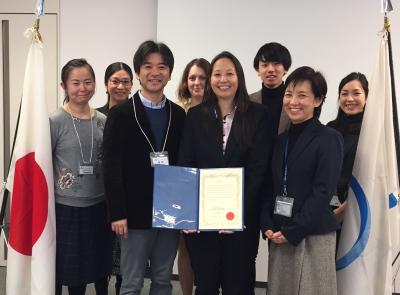 - Would you like to recommend this JICA Nikkei program to younger Nikkei people?

Isabele: Yes, I made one Instagram and Facebook fan-page to show the life of YNU and JICA Yokohama. This is because many Nikkei people have participated this program till now but we didn't have enough information from predecessors especially about programs for a long period. Sao Paulo has the biggest Nikkei community and this program is well known, but in other places is not. So I would like to distribute more information about this great experience to many Nikkei people via SNS.


【Profile】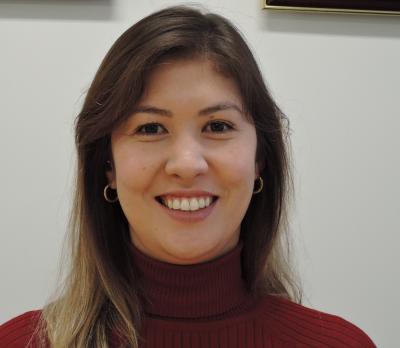 Dr. Isabele Kazahaya Borges
・Occupation: Pharmacist
・Technical trainee at Okayama University Hospital for 5 months through a
 program organized by Okayama Kenjin-kai and Okayama prefectural
 government after undergraduate course
・Finished Master and PhD Course at Londrina State University in Pathology
 and Immunology
・Worked as a Lecturer for pharmacy, nutrition and biomedical science in
 private universities in Brazil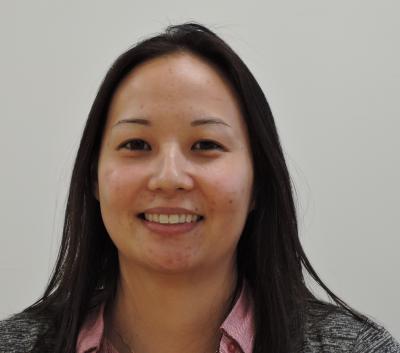 MD. Roberta Cristine Suetugo
・Occupation: Doctor
・Medical school at Positivo University for 6 years
・Specialization in ophthalmology at Londrina State University for 3 years
・Worked as ophthalmologist at Londrina State University Hospital and
 Londrina Clinics Hospital for 3 years
・Worked as emergency doctor in emergency clinics and hospitals for 3
 years