International Masters Program for Manager Academic Director visited YNU
International Masters Program for Manager Academic Director visited YNU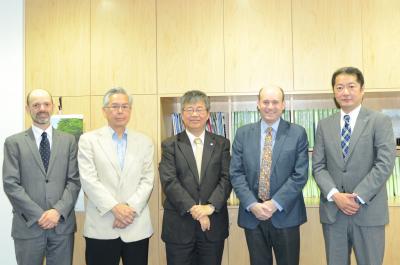 On May 15th Tuesday, 2018, Dr. Martin Brigham, International Masters Program for Manager (IMPM) Academic Director from Lancaster University Business School visited YNU. Dr. Brigham was welcomed by Executive Director and Vice President Fumihiko Nakamura, Dean of the College of Business Administration Professor Toshio Hara, Professor Daniel Heller of the Faculty of International Social Sciences and International Office Manager Tomoko Takeuchi. Also, Mr. Kentaro Iijima, Co-Director of the IMPM Japan Module, attended the meeting.
At the meeting, Dr. Brigham introduced about IMPM. It is the advanced management program for senior managers offered by Lancaster University (United Kingdom), McGill University (Canada), FGV EBAPE (Brazil), Indian Institute of Management, Bangalore (India), and YNU. Each universities offer a module based on each mindset and YNU runs "Collaborative Mindset" module. Dr. Brigham thanked YNU for the collaboration to conducting it and both agreed to promote further collaboration through this program.
For more details on IMPM, please visit the IMPM Website (
https://impm.org

).