Technische Universität Dresden (TUD), Germany visited YNU
Technische Universität Dresden (TUD), Germany visited YNU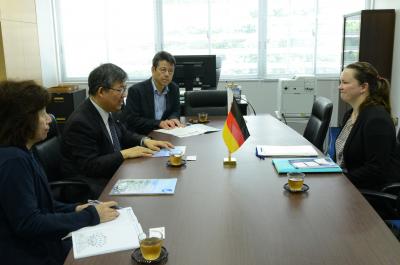 On May 18th Friday, 2018, Ms. Julia Paternoster, International Student Marketing and Visitor Services from Technische Universität Dresden (TUD), visited YNU. The visitor was welcomed by Executive Director and Vice President Fumihiko Nakamura, Prof. Yasuo Yamamoto from International Strategy Organization, and International Office Manager Tomoko Takeuchi.
TUD and YNU have a relationship such as sending YNU students to TUD, and signed a MOU regarding student exchange in 2017.
The meeting started with welcome greetings from Executive Director and Vice President Nakamura, and he expressed his gratitude for TUD's support for student exchange and application for membership of the T.I.M.E. Association which YNU became one of the member universities in February 2018.
The meeting was conducted in a peaceful atmosphere such as talking about Executive Director Nakamura's visit to Germany in the end of May. They discussed about further collaboration between both universities in the future, and exchanged their opinions about the importance of a double degree program.
Through this visit, the further development of exchanges with Technische Universität Dresden is expected.