Kabuki Visit 2018 was conducted
Kabuki Visit 2018 was conducted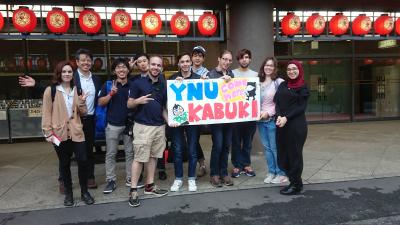 On June 15 Friday, 2018, "Kabuki Visit 2018" was conducted and about 40 international students participated.
They watched "Discover Kabuki ― Kabuki performance for foreigners" at National Theatre.
At Part I: "How to Appreciate KABUKI in English", there was an introduction about Kabuki and "Renjishi", the play they would see later, with English translation. Audience really got lively when two of them were on stage and experienced some movements of Kabuki.
At Part II: Experience the live performance of Kabuki "Renjishi", they saw the performances by Kabuki actors referring to the introduction they heard at Part I, a multi-lingual audio guide, and English subtitles.
Students enjoyed seeing all of it and seemed really satisfied after the show. One of them said "Seeing the Kabuki Performance was one of my most memorable experiences in Japan. I had studied about Japanese performing arts for a little bit in my Japanese classes, but actually seeing them in person does not even compare to the textbook. I had always wanted to see Kyogen and Kabuki, and to my surprise, they incorporated both into the performance. Needless to say, I was extremely impressed and truly enjoyed seeing another beautiful part of Japan's History." (Mr. Michael Constantinou, international student of the College of Business Administration)
This visit was really significant for students as they could see Kabuki actually with enough understanding.