University of Transport and Communications, Vietnam visited YNU
University of Transport and Communications, Vietnam visited YNU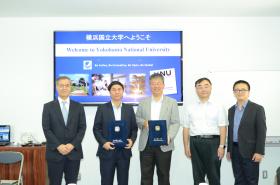 On June 8th Friday, 2018, Rector Nguyen Ngoc Long and Dr. Eng. Pham Hoang Kien, Director of the Vietnam-Japan Research and Development Center from the University of Transport and Communications (UTC), Vietnam visited YNU. Dr. Kien is a graduate of YNU and also serves as a secretariat of Hanoi Alumni Association.
The visitors were welcomed by Executive Director and Vice President Fumihiko Nakamura, Dean Satoru Sadohara and Prof. Hitoshi Yamada from the Graduate School of Urban Innovation, and International Office Manager Tomoko Takeuchi.
In the meeting, Rector Long mentioned it was a pleasure to sign a double degree program with YNU's master course, and Japanese universities are important global partners of UTC. In addition, he explained that UTC established the Vietnam-Japan Research and Development Center (VIJARD), and UTC would like to further collaborate with YNU led by the 20 several assistant professors of VIJARD who took a degree in Japan.
Followed by that, Executive Director and Vice President Nakamura stated welcome greetings. He explained that YNU values the relationships with developing countries mainly in Asia, and Vietnam is the one of them. Therefore, there are many Vietnamese students studying in YNU.
With lunch, they discussed the double degree program, then the meeting ended in a friendly atmosphere.
Through this visit, the further development of exchanges with UTC is expected.