Ambassador Extraordinary and Plenipotentiary of the Republic of Colombia to Japan visited YNU
Ambassador Extraordinary and Plenipotentiary of the Republic of Colombia to Japan visited YNU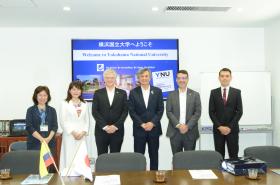 On June 27th Wednesday, 2018, H.E, Mr. Gabriel Duque, Ambassador Extraordinary and Plenipotentiary of the Republic of Colombia to Japan and Mr. Alegandro Posada Baena, Ambassador Plenipotentiary of the Republic of Colombia to Japan visited YNU, and a special lecture by Ambassador Duque on the theme " Colombia Today" was held.
The visitors were welcomed by President Yuichi Hasebe, Professor Yoko Fujikake from the Faculty of Urban Innovation, International Office Manager Tomoko Takeuchi, and Mr. Andres Felipe Piedrahita who studies at YNU as an exchange student from Colombia.
In the meeting, Ambassador Duque said there were many academically high quality universities in Colombia so that they could support further exchange with YNU and that he was delighted to hold the special lecture at YNU.
Followed by that, President Hasebe expressed his gratitude for the good opportunity for YNU students to attend the special lecture and he explained about an outline of YNU.
At the lecture which was held after the meeting, many students and general public attended and Ambassador Duque gave a very interesting lecture on the subject of the 110 years of diplomatic relations between Colombia and Japan, also about Colombian regions and biology as the second most mega-diverse country in the world and so on.
It is expected that this visit will lead to further strengthen the cooperation between Colombia and YNU.