YNU Professors visited World Bank
YNU Professors visited World Bank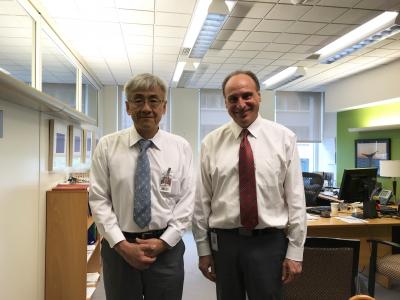 On July 23rd Monday, 2018, Prof. Koichi Maekawa, Director of Infrastructure Management Program (IMP) in the Graduate School of Urban Innovation and Ms. Yu Arima, Administrator of IMP visited World Bank. The visitors were welcomed by Dr. David Rosenblat, Manager of Strategy and Operations, Development Economics of World Bank.
Infrastructure Management Program was established in April 1995with a special fund from the Government of Japan, administered by the World Bank, for the purpose of training government officials from developing countries who have engineering backgrounds. In this September, this program will produce quality IMP graduates in Graduate School of Urban Innovation.
In the meeting Prof. Maekawa and Ms. Arima reported past efforts and achievements and informed the curriculum are enriched with the local support such as JICA Yokohama offering Practicum and Internship for the scholars. Dr. Rosenblat thanked YNU for the collaboration to conducting it and both agreed to promote further collaboration through this program.  
Through this visit, the further development of exchanges with World Bank is expected.