Anna University and Government Engineering Colleges of Tamil Nadu, India visited YNU
Anna University and Government Engineering Colleges of Tamil Nadu, India visited YNU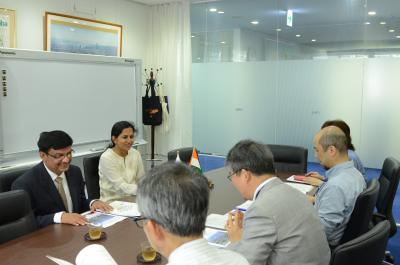 On June 29th Friday, 2018, Dr. Sivakumar Venkatachalam, Associate Professor, Department of Chemical Engineering from Anna University and Dr. Narmadhai Narasimman, Assistant Professor, Department of Electrical & Engineering from Government College of Technology, Coimbatore, India visited YNU.
The visitors were welcomed by Executive Director and Vice President Fumihiko Nakamura, Professor Atsushi Suzuki from the Faculty of Environment and Information Sciences, Associate Professor Kazuho Nakamura from the Faculty of Engineering, and International Office Manager Tomoko Takeuchi. They visited YNU in relation to the 2nd Foreign Technical Training Programme (FTTP) which was held from June 17th Sunday to July 3rd Tuesday, 2018 at YNU and the MoU regarding the study programme was exchanged in this visit.
FTTP which the Government of Tamil Nadu dispatched the 100 excellent students in the state to advanced countries by the state budget was held for the second straight years at YNU. In this year's FTTP, 25 science and engineering students from Anna University and Government Engineering Colleges of Tamil Nadu came to YNU, and FTTP at YNU offered such as research lectures, open laboratory sessions, industrial visits in Kanagawa, and cultural excursions in Kamakura, and it became a very fulfilling programme.
In the meeting, Executive Director and Vice President Nakamura said he hoped there will be a possibility that Anna University and Government Engineering Colleges of Tamil Nadu students think Japanese Universities as one of their choice of graduate studies. Also, Dr. Venkatachalam mentioned that he thought FTTP was a good experience for their students to take a different view and make a new gate opening not only to western direction but also to eastern direction.
Through the implementation of FTTP and this visit, the further development of exchanges between Anna University, Government Engineering Colleges of Tamil Nadu and YNU is expected.