MIT World Peace University (MIT-WPU), India visited YNU
MIT World Peace University (MIT-WPU), India visited YNU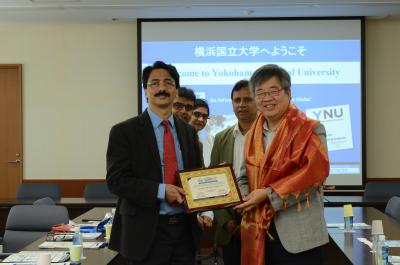 On July 31st Tuesday, 2018, Dr. Ravikumar M. Chitnis (Dean of the Faculty of Management, UG Programmes), Dr. Prasad D. Khandekar (Deputy dean of the Faculty of Engineering), Ms. Madhura Gulavani (Sr. Executive of International Collaboration Department) and Mr. Saurabh Shah (Advisor of Industry Partnerships) from MIT World Pease University, India visited YNU.
The visitors were welcomed by Executive Director and Vice President Fumihiko Nakamura, Professor Atsushi Suzuki from the Faculty of Environment and Information Sciences, Professor Hiromi Kabashima from the Faculty of International Social Sciences, Professor Meguru Kaminoyama and Associate Professor Kazuho Nakamura from the Faculty of Engineering and International Office Manager Tomoko Takeuchi.
In the meeting, Executive Director and Vice President Nakamura stated welcome greetings. Then, Dr. Chitnis explained that MIT-WPU is one university in the Maharashtra Institute of Technology (MIT) group consisting of four universities, also MIT is the private university that established under the Maharashtra State Government in 1983 and currently there are over 10,000 teachers and over 65,000 students belong to 11 locations in India. MIT-WPU is the university whose name was changed from MIT-Pune in 2017. Thereafter, Ms. Takeuchi explained an outline of YNU and they had an active exchange of opinions, including questions about exchange at a faculty level between MIT-WPU and YNU.
Through this visit, it is expected that the future exchange of MIT-WPU and YNU will develop.