King Mongkut's University of Technology Thonburi, Thailand (KMUTT) visited YNU
King Mongkut's University of Technology Thonburi, Thailand (KMUTT) visited YNU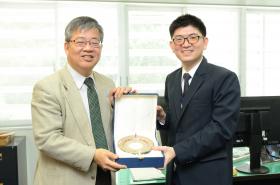 On November 1st Thursday, 2018, Asst. Prof. Dr. Thiradet Jiarasuksakun (Dean of Faculty of Science), Asst. Prof. Dr. Wunpen Chonkaew (Associate Dean for Academic Affairs), Asst. Prof. Dr. Nutthanun Moolsradoo (Assistant Dean for International Affairs) and Dr. Tula Jutarosaga (Head of Department of Physics) from King Mongkut's University of Technology Thonburi, Thailand (KMUTT) visited YNU. The visitors were welcomed by Executive Director and Vice President Fumihiko Nakamura, Professor Osamu Umezawa from the Faculty of Engineering and International Office Manager Tomoko Takeuchi.
In the meeting, Executive Director and Vice President Nakamura stated welcome greetings and an outline of YNU. Next, Asst. Prof. Dr. Jiarasuksakun mentioned his thanks for acceptance of this visit, then he explained that KMUTT is composed of 11 faculties and graduate schools and focuses on science and technology in particular. After that, they exchanged their opinions on future students acceptance regarding the agreement concluded between KMUTT and YNU in March 2018, and it became a meaningful opportunity to understand each other's universities better.
Through this visit, the further development of exchanges with KMUTT is expected.