Ara Institute of Canterbury, New Zealand visited YNU
Ara Institute of Canterbury, New Zealand visited YNU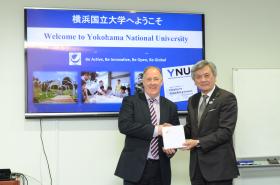 On November 7th Wednesday, 2018, President Tony Gray and International Market Sector Manager Tim Hayashi from Ara Institute of Canterbury, New Zealand visited YNU. The visitors were welcomed by President Yuichi Hasebe, Director of International Strategy Section Professor Hiromi Kabashima, Specially Appointed Associate Professor Berry Brian David from International Strategy Organization, and International Office Manager Tomoko Takeuchi.
YNU and Christchurch Polytechnic Institute of Technology (CPIT), the predecessor of Ara Institute of Technology, signed an academic agreement in January 2015, then the agreement between YNU and Ara Institute of Canterbury was concluded on the occasion when CPIT changed its name to Ara Institute of Canterbury in March 2016.
In the meeting, President Hasebe stated welcome greetings and explained about YNU English Program such as YCCS (YOKOHAMA Creative-City Studies Program) and so on. Next, President Gray and Manager Hayashi explained that Ara Institute of Canterbury is a national university with a history of over 100 years, and also "Ara" is the meaning of "pathway" in Maori which represents the learning process and the many pathways to success, and so on. President Gray showed his interest in collaboration with the Graduate School of Urban Innovation of YNU especially during the discussion, and active exchange of opinions was done.
Through this visit, the further development of exchanges between Ara Institute of Canterbury and YNU is expected.