Organizers of "International Masters Program for Manager (IMPM) "visited YNU
Organizers of "International Masters Program for Manager (IMPM) "visited YNU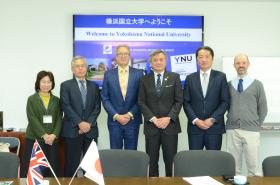 On November 14th Wednesday, 2018, Emeritus Professor Jonathan Gosling of University of Exeter, UK, and Mr. Kentaro Iijima who is an advisory board member of University of Exeter Business School and also co-director of Japan Module of "International Masters Program for Manager(IMPM)" visited YNU. The visitors were welcomed by President Yuichi Hasebe, Professor Toshio Hara, Dean of the College of Business Administration, Professor Daniel Heller from the Graduate School of International Social Sciences, and International Office Manager Tomoko Takeuchi.
There is a deep connection between YNU and Prof. Gosling who is a worldwide authority on leadership studies, as he gave a lecture at the international conference held in YNU in 2015, and also gave a special lecture at "Round Tables" cosponsored by University of Exeter and YNU Business School.
In this visit, there was a meeting of next fiscal year's IMPM Japan module that the College of Business Administration of YNU will be in charge of. They were able to listen intently valuable stories gained from Prof. Gosling's research and experience on leadership studies, and it became a very meaningful meeting.